Last week, the Antiplanner highlighted an LA Times story showing that Los Angeles transit ridership was dropping despite billions being spent on transit improvements. A blogger named Ethan Elkind wrote a response arguing that a graph in the Times story was unfair because it showed that Los Angeles transit ridership peaked in 1985.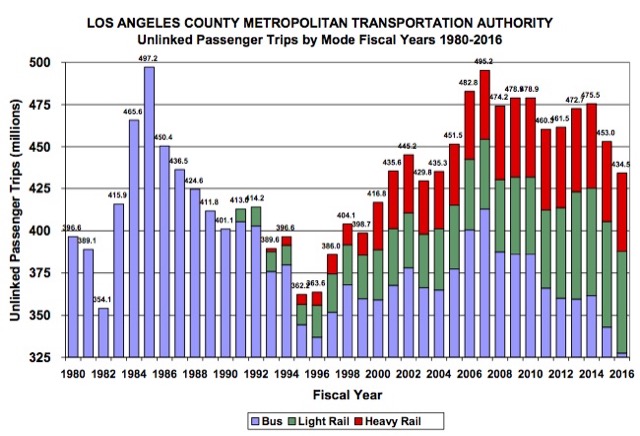 That high point was reached, says Elkind, because L.A. County had kept bus fares at 50 cents for three years in the early 1980s. After the region started building rail, it raised fares and ridership declined. "So choosing 1985 as your baseline is like climate change deniers choosing an unusually warm year in the 1990s to show that global warming hasn't really been happening since then," says Elkind. (A better analogy would be transit advocates' habit of using 1995–a low transit year nationwide–as a starting point to show increasing transit ridership.)
In response to Elkind, transit expert Tom Rubin says that starting with 1985 is not cherry picking the data, "it is the main point." If the county hadn't built rail, it would not have needed to raise bus fares. Ridership might have continued to grow, instead of declining by 17 percent through 1995, at a much lower cost to taxpayers.
You can download Rubin's detailed response, much of which refers to the above chart, a more detailed version of the graph critiqued by Elkind. Rubin observes that ridership declined from 1980 through 1982 due to recession-forced fare increases from 55 cents to 85 cents per ride. After fares were reduced to 50 cents in 1983, ridership grew by 40 percent. However, fares increased again to 85 cents in 1986, rising to $1.35 by 1995. This led to a 27 percent fall in ridership.
Rubin knows the Los Angeles transit system as well as anyone inside the agency. In fact, he was inside the Metro's predecessor, the Southern California Rapid Transit District, as its Chief Financial Officer from 1989 until it became Metro in 1993. Later, he was a chief witness in the Bus Riders Union lawsuit that forced Metro to restore bus service that had been cut to pay for rail cost overruns.
Rubin notes that the 50 cent fare program was wildly successful, leading to an increase in ridership that was unprecedented anywhere. Rather than stick with this successful policy, the transit agency reversed it by raising fares by 70 percent (eventually by 250 percent) and cutting bus service.
The Bus Riders Union filed its suit when Metro nearly doubled bus fares in 1996. The suit led to a consent decree requiring Metro to reduce fares and restore bus service that had been cut and improve it elsewhere. Despite agency resistance to the decree, implementation led to a rapid growth in ridership from 1995 to 2005. This growth cost taxpayers $1.45 per new ride, as compared with $25.82 for each new ride on the Blue, Gold, Green, and Red rail lines and the Orange line dedicated busway. In order to comply with the consent decree, Metro pretty much stopped building any new rail lines.
As soon as the consent decree expired in 2007, Metro resumed planning and building new rail lines. It increased bus fares from $1.35 to $1.75 and monthly passes from $42 to $100, which, Rubin notes, meant that someone had to take 57 trips per month to make a pass worthwhile as compared with 31 trips at the old rates. Metro also cut bus services to help pay for new rail lines. The result has been a decline in ridership as shown in the chart. Rubin also shows that rail riders have higher median incomes than bus riders, suggesting that the poor are losing so the relatively well-off can have what some think is a more prestigious ride.
Elkind also points out that a lot of the billions that are being spent have been spent on lines that haven't opened yet, which sounds like a valid point. Yet more than $10 billion worth of rail lines have opened, and Rubin's analysis makes it pretty clear that transit ridership is a lot more sensitive to things like fares and service levels than to whether transit uses rubber tires or steel wheels.
Read Rubin's full response for more details about unlinked vs. linked transit trips, declining per capita ridership as population grows, and how rivalries between the Southern California Rapid Transit District and the L.A. County Transportation Commission hurt transit riders both before and after the two agencies were merged to form Metro. However, the fact that Los Angeles' experience with transit has been replicated in many other cities is a powerful argument against building rail transit.