If you want a book demonstrating that smart growth is based on mumbo-jumbo, half-truths, and outright fabrications, there are few better examples than The Well-Tempered City. Jonathan Rose is a real estate developer who happens to be married to the sister of New Urbanist architect Peter Calthorpe. Rose claims to have been at the 1996 meeting where the term "smart growth" was coined, though he doesn't mention that one of the reasons for choosing the name was so its supporters could tar anyone who disagreed with them for favoring "dumb growth."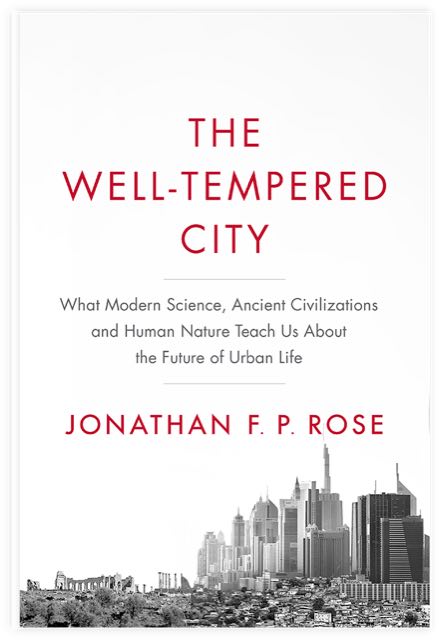 Full disclosure: The publisher gave me a copy of this book on the condition that I write a review in my blog, so anything positive I say about the book should be taken with a grain of salt. I told the publisher my review might not be too positive, but they seemed to think a bad review was better than none at all. As it turned out, the book is far worse than I suspected, as I usually expect a semblance of reason from people I disagree with. I could find none in The Well-Tempered City.
Instead, Rose stretches a metaphor between cities and Johann Sebastian Bach's fugues well beyond the breaking point. He includes a lengthy chapter on the history of cities that have nothing to do with our cities because cities before 1880 didn't have cars, telephones, electricity, or the internet. Most of the rest of the book is devoted to snake-oil jargon like "coherence," "circularity," and "resilience," terms that are vague and provide little real guidance about urban form.
Rose basically starts with the proposition that Jane Jacobs was right; that the only cities worth discussing are made up primarily of mid-rise, mixed-use developments like Greenwich Village. He then spews forth some 120,000 words of stream of consciousness, most of which has little to do with his thesis.
The few things he says that are relevant to modern cities are mostly wrong. For example, he buys into the General Motors streetcar conspiracy, saying, "To discourage streetcar ridership, General Motors, Firestone Tire, Standard Oil of California, Phillips Petroleum, and Mack Trucks formed dummy transit companies in 1938, and began buying up cash-stretched city streetcar lines and closing them down, converting them to bus routes. Los Angeles, San Diego, St. Louis, Oakland, and dozens more cities like them suffered the fate of having their streetcar systems destroyed."
This claim has been disproven so many times that anyone making it must be diligently holding their hands over their eyes and ears so they won't be exposed to reality. General Motors and its partners weren't interested in discouraging streetcar ridership; they were interested in selling buses, bus tires, and bus fuel. They didn't form dummy companies; they bought a company, National City Lines, that owned transit operations that were buying buses, tires, and fuel. Not all of the companies they bought operated streetcars. Not all of the ones that operated streetcars converted them to buses while GM owned National City Lines. No more than two dozen of the 800 streetcar companies that converted to buses were owned by National City Lines and made the conversion while GM owned National City.
Rose goes on to say that those naughty "planners of the Interstate Highway System resisted all efforts to . . . even place an easement for future rail lines down the highway divider, or alongside it." In reality, rail transit only existed in about two dozen cities when Congress approved the Interstate Highway System, and within ten years it was down to eight. Putting an easement for rail transit along the highways made about as much sense as dedicating two of the highway lanes to horses and wagons. Even if you believed in rail transit in 1956, rail's operating needs, such as grades and proximity to people, were very different from those of interstate highway users, so the freeway would usually be the wrong place to put a rail line anyway.
Rose blames the suburbs on government subsidies such as the mortgage interest deduction, FHA low-interest loans, and Fannie Mae mortgage corporations. The United States is the only country in the world that has all of these institutions, and countries like Canada and Australia are just as suburbanized without any of them. He also mentions racist policies such as FHA redlining, but as urban economist Edwin Mills points out, those policies "have had a greater effect on who lives and works in suburbs than on how many live and work there."
Another foolish claim is that, in the 25 years after 1975, "most American cities lost a significant portion of their population" as a result of federal subsidies to the suburbs. Did he ever look at census data to check this out? A few cities, such as Cleveland and St. Louis, began losing population right after World War II, but most never did and those that did pretty much ended their population declines by 1980 or so.
Rose hates the suburbs because, he claims, they cause "the loss of productive soils, reduced biodiversity, and inefficient use of natural resources." Actually, biodiversity of the suburbs is greater than of American agricultural lands, whose biodiversity is significantly lower than the Sonoran desert. The United States has a huge surplus of ag lands, so the "loss" of productive soils for housing is actually a very efficient use of natural resources.
In a broader sense, Rose confuses "city" with "urban area." He cites the reported fact that most people now live in urban areas, only he says most people now live in cities. He distinguishes cities from suburbs, the latter of which he calls sprawl, but in most of the developed world, at least, most urbanites live in suburbs, not cities. The reality is that people move to cities for jobs, but as soon as they have mobility, most move to suburbs (and so do most of the jobs). He can't praise cities without praising suburbs, yet he refuses to admit that suburbs are a praiseworthy lifestyle.
The Antiplanner doesn't have any objection if people want to live in dense neighborhoods and developers like Rose want to build them. The problems come when ideologues like Rose want to use centralized government planning, coercive land-use tools, and subsidies to developers to replace existing suburbs with Greenwich Villages, and then use claptrap like this book to justify it.
Rose and his smart-growth allies never admit to all of the problems that smart growth creates: unaffordable housing, traffic congestion, higher infrastructure costs, criminogenic neighborhoods, and increased wealth inequality. Instead, like the religious zealots that they are, they piously claim that their dogma will solve these problems even though it is making them worse. Urban planners have come to realize that trying to force everyone to live in high rises, as they wanted to do in the 1950s, didn't work. Now they need to learn that promoting more mid-rise housing doesn't work any better. This book won't help.