The Antiplanner's eclipse was nearly smoke-free, thank you. In fact, I was in one of the best places in the nation to watch the eclipse, as we were also cloud-free.

Waiting for the eclipse near Camp Sherman.
Prior to the eclipse, many people were predicting chaos and even a "disaster nightmare." "Officials are bracing for toilet shortages, cellular blackout zones and the potential for emergency service vehicles to be stuck in traffic."
As far as I know, there were no toilet shortages or cell phone blackout zones around here. Madras, Oregon, a few miles away from here, was supposed to be the epicenter of the chaos. But as of Saturday, Madras merchants were still waiting for the chaos, saying that they had stocked up on eclipse memorabilia, cold drinks, and various other things, but weren't seeing the sales they had anticipated.

The eclipse over Green Ridge.
The only traffic problem prior to the eclipse was a 15-mile back-up of people trying to reach an eclipse festival near Prineville, which attracted more than twice as many people as anticipated.

Totality wasn't as dark as I expected.
The real problem came after the eclipse. People traveled to the zone of totality over a period of several days, but as soon as the eclipse ended, they seemed to all head home. This led to severe traffic jams on Interstate 5 north and south of Salem and U.S. 97 north and south of Madras. Some of the worst traffic was south of Madras, because one segment of the a four-lane highway between Madras and Bend shrinks to a two-lane road. The traffic finally started broking up there at about 7:30 pm, nine hours after the total eclipse ended and nearly eight after the eclipse was completely over.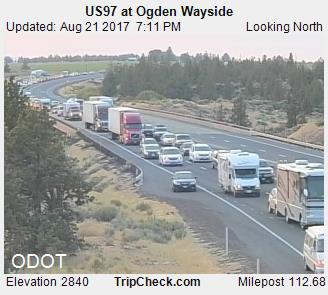 Oregon has been planning for the eclipse for more than a year. State and local governments probably spent millions on their plans. Yet all the state could do in face of entirely predictable (and predicted) traffic jams was to exhort people to "please stay put if possible."
The state could have temporarily restriped (with orange pylons) highway 97 for three lanes, two of them in the direction of anticipated traffic. Similarly, it could have allowed people on I-5 to use the inside shoulder lane, which as the photo above shows is broad enough for traffic. Oregon has no left exits on its interstates, so opening this lane to traffic would not have caused any interference with people getting on or off the highway.

It doesn't take a genius to come up with these ideas. To me, this is just one more example of how government planners, for all their pretensions, are pretty useless. Most of the problems caused by the eclipse worked themselves out, and the ones that were left were ones the government could have fixed, but didn't bother to.