Rail advocates are often torn between arguing that everyone else subsidizes passenger trains, so we should too; and arguing that passenger trains could make a profit if only we would provide enough initial capital investment. High-speed rail advocates, for example, often claim that high-speed trains in Europe make money. For example, in 2008 The Economist wrote that the French TGV "lifted the [French state] railway to a profit of 695 million euros in 2006."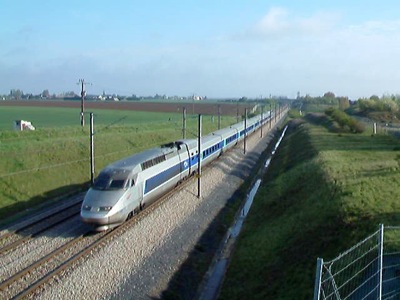 Money maker or money loser?
Last year, Amtrak's Inspector General hired a European consulting firm to examine such claims. The resulting report demolishes any notion that European railroads make money.
The report found that European countries provide both on-budget and off-budget support to the railroads. Off-budget support, including things like pensions, debt service, and past capital investments, won't be found in any of the railroads' annual financial reports. When counted, however, Germany's state-owned railroad lost an average of $23 billion per year in the past decade, while France's lost $10 billion.
The report also found that statements of net revenues typically count government support as revenues. Thus, claims that the income of rail lines exceeds costs are true only if you count subsidies as a part of the income.
Some countries also have two types of rail companies: one manages the infrastructure and the other operates the trains. The train operators might be able to report a profit only because the infrastructure companies are heavily subsidized. British trains, for example, have been privatized and operate at a profit — but they run on infrastructure that receives an average of $4.6 billion in state subsidies per year.
The Inspector General's report gratuitously concludes by noting that most European countries spend far more subsidizing passenger trains than the United States. What it doesn't say, however, is that on a passenger mile basis the reported subsidies are very similar.
The report estimated operating subsidies over a nine-year period between 1995 and 2003. A report from the European Union, Panorama of European Transport, lists total rail passenger kilometers for 1995, 2000, and 2004. I averaged those and divided them into the average annual subsidies. Converting to miles results in subsidies ranging from 14 cents a passenger mile in the U.K. to 32 cents in Austria. France was 20 cents and the subsidy for nine western European nations as a whole averaged 22 cents. By comparison, Amtrak subsidies, figured the same way, averaged 21 cents per passenger mile.
The Inspector General also found that European infrastructure subsidies are "well above the subsidy level provided to Amtrak." The subsidy for "Amtrak's infrastructure is approximately 50% less than the average direct subsidy" in Europe. Actually, the Amtrak subsidy was $174,000 per mile, which is only 33% less than the average European subsidy of $261,000 per mile.
Moreover, the Inspector General calculated the simple average of per-mile subsidies in nine European countries, unweighted by miles of track. Three of the four counties with the most extensive rail systems had subsidies lower than Amtrak's. This brought the weighted average (based on miles of track shown on page 11 of Panorama) down to $172,000 per mile, which is actually slightly less than Amtrak's average. Such a simple mistake is unbecoming of an objective analysis.
The Inspector General also reports that, per train mile, Amtrak's Northeast Corridor made money while European lines lost money. Many readers might overlook the point that "Amtrak's NEC passenger train operations are not charged track access fees" as is typical in Europe. In other words, the European operating costs effectively include depreciation on the capital assets. When depreciation is added, Amtrak's Northeast Corridor trains lose about the same, per train mile, as trains in Sweden and the Netherlands.
What emerges from this analysis is that Amtrak's losses are completely typical of government-run passenger rail lines. Amtrak runs fewer trains that other countries, so its total losses are smaller. But running more trains will not result in some sort of "economies of scale" that will magically save money.
In fact, as another Inspector General's report finds, Amtrak's labor costs are so much higher than in Europe that it is surprising that its losses are not much greater. The report found that Amtrak pays its average "infrastructure worker" 2.3 times as much as the average European rail infrastructure worker. Base wages are only 30 percent greater, but Amtrak pays 4.25 times as much in fringe benefits. Expanding Amtrak's infrastructure expenses through the high-speed rail program is likely to dramatically increase its losses.