Bandon, Oregon, my home town, was featured in the New York Times last week as a "hard-luck community" apparently inhabited by a bunch of rubes who foolishly subsidize wealthy executives. The article (also viewable as a video) actually left out some of the juiciest parts of this tale.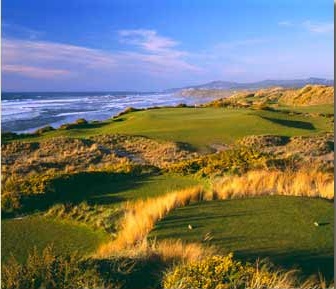 #6 at Bandon Dunes Golf Course. Photo by Bandon Dunes Resort.
The story is about Bandon Dunes, a destination golf resort built by a wealthy golf enthusiast named Mike Keiser (who, everybody likes to observe, made his money selling greeting cards printed on recycled paper). Keiser spent tens of millions of dollars of his own money building the course on sheer speculation. When he opened, greens fees started at something like $175 a round (and are now as high as $250). But every hole has an ocean view and the course was quickly rated one of the best in America, so he got more business than originally anticipated.
Keiser did not need any subsidies to build. Full disclosure: I understand Keiser gives money to my new employer, the Cato Institute. After his resort proved successful, however, some local governments decided to promote their empires by subsidizing Bandon Dunes and its wealthy customers.
I moved to Bandon just before Keiser opened his first golf course (he now has three with another under construction). I knew I was moving to a socially conservative area, but I expected it to be fiscally conservative too. Wrong. Coos County has historically been a major timber and shipping area, meaning it has been heavy on labor unions — and unions in general and the longshoremen in particular are known for favoring government. So I was dismayed to see voters approve — by narrow margins, but approve nonetheless — all sorts of crazy boondoggles.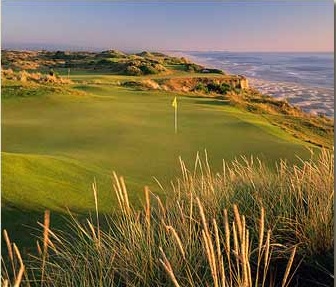 #11 at Pacific Dunes Golf Course. Photo by Bandon Dunes Resort.
One of those boondoggles was a property tax subsidy for the Coos County Airport District, which runs the North Bend Airport. As the Times article says, North Bend (the commercial airport nearest to Bandon Dunes) used to have basic "puddle-jumper" air service to Portland and almost no private air traffic. Now it has five commercial flights a day (up from the three mentioned by the Times) and some 5,000 private jets a year bringing in executives and other fat cats wanting to play a round or three of golf.
Airport landing fees ought to cover the costs of services to airport users. But that wasn't enough for the airport district. Rather than charge millionaires the full cost of air terminal services, it put a measure on the ballot to use property taxes to build a brand-new terminal for commercial airlines, and then turn over the existing (but heavily remodeled) terminal to the private jets.
A lot of Coos County residents have never been on an airplane. So why should they pay to subsidize people wealthy enough to buy or hire their own private jets? Of course, it wasn't sold to the voters that way. Instead, the airport district claimed the improvements were needed to comply with post-9-11 security requirements (wrong), and that if the improvements weren't made, the commercial airlines would stop serving the county (wrong again). Even if these claims were true, it should not have been enough to persuade people who don't fly to subsidize those who do. But it persuaded enough of them: the measure won by a few hundred votes.
The Times article mentions state lottery money and federal money going to the airport. But it neglects to mention the money paid by local taxpayers, nearly all of whom are a lot poorer than the people who will benefit.
The Times alludes to another boondoggle but doesn't give many specifics. A few years ago, the Oregon legislature created an economic development program that allowed rural areas to create "enterprise zones." The entities managing each zone were authorized to waive property taxes for up to 15 years to anyone who would bring new jobs into the zone. After ten years, the zones themselves were to sunset unless renewed by the state.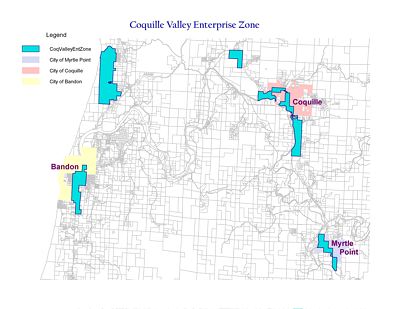 The Coquille Valley Enterprise Zone today. Bandon Dunes is the blue in the upper left. Before it was added, the enterprise zone consisted solely of the blue areas on the right. The blue area in the lower left was added more recently. Click the map for a larger view.
One such zone was created in Coquille, about eight miles due east of the Bandon Dunes Golf Resort. But in 2004 the Coquille Valley Enterprise Zone was about to sunset without having created a single new job. So the people running the zone went to Mike Keiser, who was then building Bandon Trails, his third golf course. Even though the golf course was miles away from the original boundaries of the enterprise zone, they offered to give him the property tax breaks so that they could claim they had created the new jobs from Bandon Trails. This, they hoped, would convince the state to renew the zone's charter.
Keiser may be a free marketeer, but he is not above accepting a gift. Both county and city commissions had to approve the tax break, however, and one county commissioner and some city commissioners opposed it. Keiser's people testified in favor of the tax break but admitted that they were going to build the golf course whether they got the tax break or not. In February, 2004, Bandon's city council rejected the zone, but in a surprising turnaround after who knows what backroom deals were brokered, accepted it.
So now Coos County property owners pay higher taxes because of the airport and get fewer public services because of the tax break. Neither of these handouts were needed and both require the poor to subsidize the rich. They happened only because local government entities — an airport district and an economic development district — saw Keiser's golf courses as an opportunity for them to maintain or expand their domains.
I am an antiplanner because I oppose government planning. The planners themselves may start with good intentions, but when government gets involved, you end up with just such perverse outcomes.