From time to time, the Antiplanner has reviewed books that seemed worthy of inclusion in an antiplanner's library, or at least worth knowing about. Now the time has come to announce the ultimate antiplanning book, one specifically aimed at repealing all government planning laws.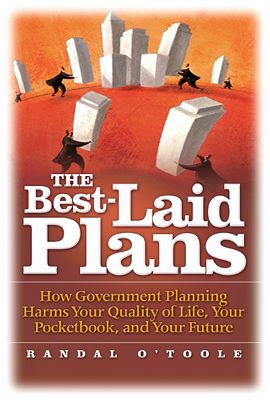 Click the image to see the full cover in all its glory (287 KB).
Yes, the Cato Institute is releasing The Best-Laid Plans, written by the Antiplanner himself. The book covers all the issues discussed in the Antiplanner blog, including forest planning, urban planning, and transportation planning. But the book's theme is not that there is something wrong with these specific kinds of plans but that government planning itself — that is, comprehensive, long-range planning by government agencies who often don't own the resources being planned — cannot work and should not be attempted.
Best of all, the back cover of the book presents a beautiful photo of the Antiplanner's favorite dog, Chip. Just ignore that old guy teetering next to him, who probably got in the photo by accident.
Now, I have to confess that perhaps two thirds of last January's posts on the Antiplanner were taken straight out of the book. Since then, the Antiplanner has relied less on the book and more on current events. Probably no more than 10 percent of the book has appeared in this blog, so if you like the Antiplanner (or even if you are a loyal opponent), you will definitely want to read the book.
The book is already being advertised by Amazon, Barnes and Noble, Wal-Mart, and Portland's very own Powell's. If you live in Portland, mark September 20 on your calendar as the the Antiplanner will make a rare appearance in his former hometown to autograph books at Powell's on Hawthorne at 7:30 pm.
Cato is offering the hardbound book for $22.95. Many of the above stores are, of course, discounting the book. In addition, members of the American Dream Coalition can order the book for just $15, including shipping.
No doubt the book will be almost as popular as Harry Potter and the Deathly Hallows. I will leave it to the reader to find out for him- or herself whether Voldemort the planner or Harry the antiplanner dies in the end.