TriMet's $166 million "Westside Express Service" (WES) commuter rail is a miserable failure. After going 60 percent over budget, it is carrying only about 600 round trips per day. The amortized value of the capital cost alone is enough to buy every one of those commuters a brand-new Toyota Prius every year for the next 30 years. Those Priuses would be cleaner than the WES too.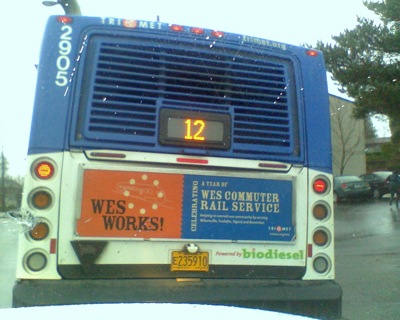 Click for a larger view. Thanks to Steve Schopp for the photo.
So naturally TriMet wants to "celebrate WES" so much that it is advertising this great project on the back of its buses. Note that it isn't asking people to actually ride the train, because that would never happen — no offense to Wilsonville, Tualatin, or Tigard, but from a transportation view the train goes from nowhere to nowhere, which kind of explains why hardly anyone rides it.
As Bojack notes, "Here in Portland, when the bureaucrats screw up, they never admit it. They'll just tell you that what they did is a smashing success." Of course, as someone named Ben responds, "Under federal law, if a transit agency decides a transit project is a failure and stops running it, it has to return the federal grants back to the feds. So if TriMet admits WES is a failure and quits running it, it would owe the feds at least $59 million. They might consider it to be less expensive to keep running it."
Ironically, this ad is on the back of a number 12 "Barbur/Sandy" bus. This route is so popular that TriMet made it one of its Frequent Service buses, with service "about every 15 minutes most of the day, every day." Except that it's not: the fine print on TriMet's web site notes that, "due to a budget shortfall," the agency has "temporarily reduced frequency on some Frequent Service lines." If only they had $166 million lying around that they could have used to keep those Frequent Service buses running.
Incidentally, the Antiplanner grew up a few blocks from Sandy Boulevard and sometimes went downtown on the #12 bus. However, I more often rode the Halsey bus, which was a lot faster because it stopped about three times after picking me up and then got on the freeway direct to downtown. When light rail opened, TriMet cancelled that bus because it was faster than the light rail and they didn't want the train to face the competition. Great planning.