On Wednesday, April 14, the Antiplanner had the honor of debating James Kunstler, the famous author of Geography of Nowhere and The Long Emergency. The students at Brown University who set this up chose the topic, "Building America: Who Should Control Urban Growth–Planners or Markets?"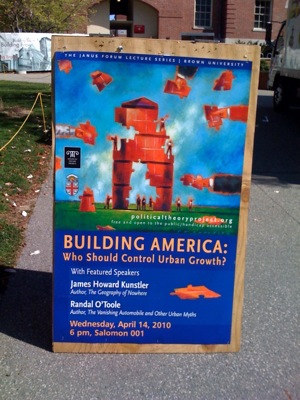 I've never met Kunstler before, and I was a bit nervous since he hasn't exactly been friendly on his blog. But he turned out to be very warm and congenial. We share many recreation interests and I am sure we could be friends if we didn't live on opposite sides of the country, which (despite our mobility) might be a bigger barrier than being on opposite sides of the political debate.
Kunstler and I were each asked to speak for 25 minutes, after which we were invited to ask each other one question. Then the floor was opened to questions from the audience, mostly (I was told) students in political science, environmental studies, urban planning, and economics.
Before we began, I mentioned to one of the students that we probably weren't really going to debate the issues; instead, we would be presenting alternative approaches to the issues. Kunstler has a right-brained approach, based on intuition and emotion, while I have a left-brained approach, based on logic and numbers. This prediction turned out to be correct.
Kunstler's presentation made a very simple argument: oil production is about to peak, after which prices will steeply rise. This will render automobiles too expensive to drive (because no other fuel will do) and make the suburbs obsolete. He didn't provide any evidence for any of these assertions, instead relying on hyperbole and a PowerPoint show that consisted mostly of cartoonish illustrations of the apocalypse.
My presentation (PDF version; both versions are about 30 megabytes) tried to make four points: automobiles and low-density development produce far more benefits than costs; those costs have been greatly exaggerated by auto opponents; the "smart-growth" cure is worse than the disease of urban sprawl; and the real solution to the problems that do exist is to create systems that give people freedom to choose how they want to live and travel but make sure they pay the full costs of those choices.
After my presentation, Kunstler asked me who I thought paid for highways: the government or the private sector. I responded that 80 percent of the cost of roads was covered by some form of user fee. That was a slight dodge, but I have long argued that funding government programs out of user fees and not taxes is a good way of minimizing government waste. Privatization might sometimes be better but is often less politically likely.
My question for him was why he thought the government action was needed to deal with peak oil instead of simply relying on the market. Many people in the audience appeared stunned by his rambling answer that seemed to indicate he was not arguing for any government action at all; he just wanted people to know "the reality of peak oil." This made me wonder why, if he didn't support government action, he accepted the invitation to the debate.
During the question period, a couple of students pressed Kunstler on this point. In an obvious reference to my presentation, he said tht people lie with statistics and that "econometricians are held in lower repute than any other profession today except for politicians and bankers." I guess I should be flattered to be called an econometrician, as my analyses are nowhere near sophisticated enough to be considered econometrics (which makes heavy use of calculus and regression analysis), being based instead almost entirely on simple arithmetic. But it is possible that Kunstler doesn't know what econometrics is.
After the debate, one of the right-brained members of the audience asked me for the source of my claim that Americans spend only about 22 cents per passenger mile driving cars when the "American Anthropological Association" (yes, that's what she said) had calculated it to be 55 cents a mile. I explained that one difference was that my numbers were per passenger mile while the American Automobile Association numbers were per vehicle mile; and that the other difference is that the Triple-A numbers were hypothetical while mine were based on actual expenditures from the Bureau of Economic Analysis divided by actual passenger miles from the Federal Highway Administration.
Specifically, I added, the AAA numbers assumed that people would buy new cars, pay full finance charges, and then replace the car after 5 years, when in fact we drive our cars for an average of 18 years. "No we don't," she said, "We only drive our cars a few years, and then they trickle down to low-income people." I didn't bother telling her that I drive a car that I bought new (with cash, so no finance charges) in 1986. Instead, I tried to say that expenditures by low-income people had to be included in the averages. But she interrupted me, saying, "There isn't any point in listening to you; I'm not going to be persuaded no matter what you say."
Sometimes I secretly wish we had a law requiring people to be adept with simple arithmetic before they are allowed to participate in public policy debate. If you think people are going to lie to you with statistics, the appropriate recourse is to arm yourself with statistical tools so you can detect and correct their lies. But for some people it is just easier to ignore all data and fall back on their hunches and preconceived notions. That's a dangerous attitude that makes you vulnerable to rhetoricians who will speak to your emotions rather than to reality.
But I suppose that's just a left-brained view.