Sigh. Another day, another junk science paper from the smart-growth advocates. This time it is a paper titled Walking the Walk, which argues that the fact that housing prices are higher in so-called walkable neighborhoods proves that "consumers and housing markets attach a positive value to living within easy walking distance of shopping, services, schools and parks."
In fact, all the paper proves is that the person who wrote it doesn't understand basic economics. The report is junk science because it confuses cost with demand and presumes that correlation equals causation.
The report measured walkability by the number of businesses and other destinations — groceries, restaurants, drug stores, schools, libraries, parks, etc. — located within one mile of of a residence. Scores were highest if destinations were within a quarter mile, and zero of they were more than a mile away. In general, then, the most walkable neighborhoods were the ones with the highest commercial densities.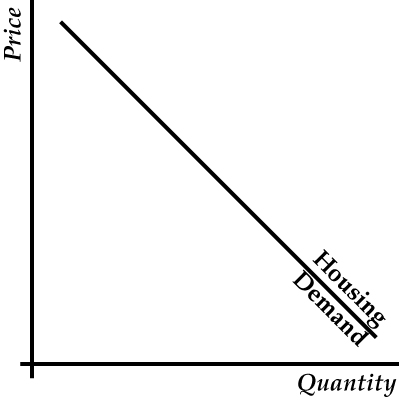 To understand the flaw in the report's reasoning, start with a simple demand curve for housing. The curve says that at a high price, the quantity demanded is low, while at a low price, the quantity demanded is high.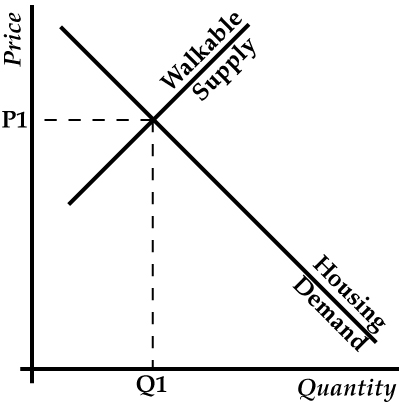 Now add a supply curve showing how much housing will be supplied in a walkable neighborhood at different prices. The cost of land in areas with high commercial densities is going to be high, typically in the hundreds of thousands of dollars per acre. People wanting housing must compete for this expensive land with other uses such as shops and offices. One response to high land costs is to build high-rise buildings, but such buildings are also more costly than low-rise. For all these reasons, the supply curve for housing in walkable neighborhoods will be high, leading to a high price, shown as P1 on the above chart.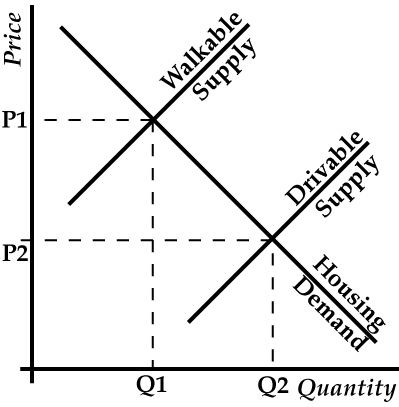 By comparison, the cost of land in low-density "drivable" neighborhoods is much lower. At the urban fringe of a city without growth boundaries, the cost will be no more than the cost of farm or forest land, perhaps around $1,000 an acre. Since there is plenty of such land, the supply curve for housing will be much lower, leading to a low price shown as P2 on the above chart.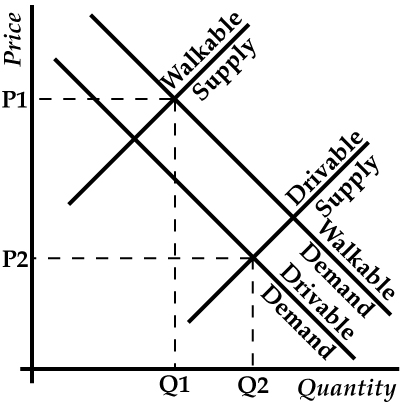 The above charts assume that there is only one demand curve for housing. But most people probably put a different price on what they are willing to pay for housing in dense urban neighborhoods versus housing in low-density suburbs. Walking the Walk claims that the demand curve for housing in a walkable neighborhood is higher than for housing in a low-density neighborhood, ensuring that P1 is still more than P2.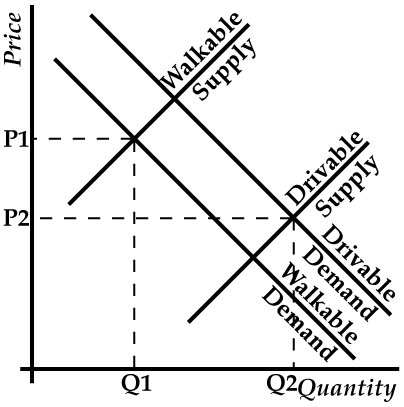 But what if the reverse is true? What if the demand for housing in drivable suburban neighborhoods is greater than for walkable urban neighborhoods? Even if this is true, the above chart shows that the difference in the supply curves can swamp the difference in demand, so that housing in walkable neighborhoods would still cost more than in drivable neighborhoods.
In other words, the fact that housing in walkable neighborhoods costs more than in drivable neighborhoods says nothing at all about whether people are paying a premium for walkability. All it says is that land in dense commercial and retail areas costs more than land in residential areas, something that people knew more than 100 years ago. Downward-sloping demand curves mean that someone is likely to pay that price, but that doesn't mean that overall demand for walkable housing is greater than for drivable housing.
The Antiplanner thinks the last chart is more likely to be realistic than the previous one. People drive for at least 90 percent of their travel in urban areas, so they are more likely to want drivable neighborhoods than walkable ones.
Smart-growth advocates argue that people can save money by driving less, which allows them to pay more for housing. But there are other costs of living in dense urban areas that make up for any savings from driving less.
For one thing, retail costs are going to be higher just because the retailers, like the residents, must pay higher land costs. Moreover, people with cars have access to numerous competing stores, while people on foot typically can reach a limited number of stores. A major supermarket typically needs virtual patronage of at least 10,000 people. A low-density community of 50,000 people might have five major supermarkets within easy driving distance of most of the people in that community, and most residents probably regularly shop at more than one of those stores. A University of Washington study (link goes to abstract; here is a short version), for example, found that 85 percent of Seattle-area residents seek either lower prices or higher quality by shopping primarily at grocery stores that average more than twice the distance of the closest stores to their homes.
A walkable neighborhood would need densities of well over 10,000 people per square mile to have even one full-sized supermarket within easy walking distance of those people. Except at extraordinarily high densities, few people will be within walking distance of two or more stores, which means they will be captive to one store that can then charge higher prices.
One way stores respond to lower densities is to reduce their product selection. But how many people are satisfied to do all of their shopping at a Trader Joe's (which typically has less than 3,000 products on its shelves, compared with more than 30,000 at a Kroger or Safeway) or, worse, an Aldi (which typically has only about 1,400 products on its shelves)?
Higher housing costs, higher consumer costs, and more traffic congestion whenever residents resort to driving to find shops or services outside their neighborhoods all mitigate the supposed benefits of walkability. But, in the end, it doesn't matter whether you agree with me that the demand curve for suburban housing is higher than for walkable housng. My main point is that the Walking the Walk report proved nothing except that its author either doesn't understand supply and demand or hopes that his readers don't.