The Utah Transit Authority (UTA) made the stunning announcement Wednesday that it has been overestimating its light-rail ridership by 20 to 30 percent. It recently installed infrared scanners that accurately recorded every passenger who boarded a train and found its previous numbers were way too high.
Don't worry, rail fans. Utah won't let little things like lying and cheating stand in the way of building more rail lines at the expense of new roads. When officials discovered that planners had made a "calculation error" to bias their analysis in favor of more trains, they decided to build more rail lines anyway.
Now UTA reveals that its supposedly successful Salt Lake City light-rail system attracts far fewer riders than previously reported. Naturally, officials hasten to add that "It doesn't mean we're going to stop projects." Of course not! Why let the facts get in the way of spending billions on a rail empire?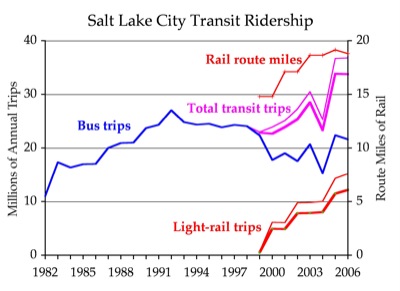 The thin purple and blue lines show ridership numbers reported by UTA. The thick lines assume light-rail numbers were overestimated by 20 percent. Click for a larger view.
There has always been something fishy about Salt Lake City's transit numbers. The figure above shows that bus trips dropped when the light-rail line opened. But starting in 2003 bus numbers jump all over the place. Which are right: the low numbers of 2000, 2001, 2002, and 2004, or the high numbers of 2003, 2005, and 2006?
Things get even more peculiar when you look at passenger miles. In 2005, UTA reported 75 million passenger miles on its buses. In 2006, they nearly doubled to 149 million miles even though bus ridership slightly declined. This implies that average trip lengths increased from 3.4 miles to 6.9 miles. Nationally, bus trips average 3.9 miles, so the former number seems more credible.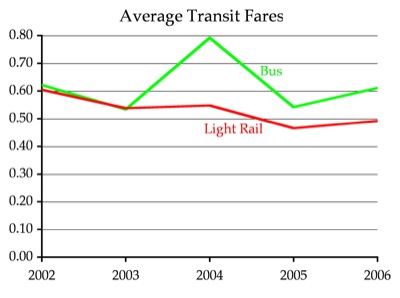 Click for a larger view.
Transit fares provide a useful check on ridership numbers: fares are harder to fake overestimate. UTA charges the same fare for bus and light-rail rides, and the above chart shows the same average fares in 2002 and 2003. But in 2004, bus fares jump far higher than light-rail fares. This might raise questions about the 2004 bus numbers.
But don't forget the light-rail ridership numbers are overestimated. Fares of 47 to 60 cents per ride are significantly below the national average of 72 cents, which supports the idea that rail ridership numbers were overestimated by at least 20 percent. That suggests that UTA also overestimated bus ridership numbers in 2002, 2003, and 2005.
Even using its own faulty numbers, UTA carries less than 1.2 percent of motorized passenger travel in the Salt Lake City region. That's pretty close to nothing, and cutting it by 20 percent still leaves pretty close to nothing. But the region is going to build more rail transit anyway.