Unplanning sounds like a book for the Antiplanner. But the title is deceptive. Author Charles Siegel is critical of the urban planners who, according to the myth, planned and designed the low-density suburbs that most Americans live in today. He supports the high-density, anti-automobile goals of most of today's urban planners. He just wants to achieve those goals with top-down political action, not top-down planning.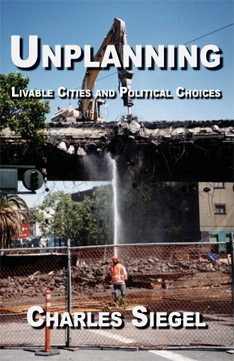 Instead of building new roads, says Siegel, we should build more rail transit. Instead of building low-density suburbs, we should cluster development around rail stations. Instead of speed limits of 45 to 65 mph on urban arterials, he says we should limit speeds to 30 mph.
Like most New Urbanists, Siegel lives in a fantasy world in which people will behave the way he thinks they ought to behave instead of the way they do behave. Siegel presents a circa 1910 postcard of a streetcar suburb, saying "streetcar suburbs were greener, less congested, quieter, and safer for children than today's automobile-oriented suburbs."
Has he visited a streetcar suburb lately? (Most of them are no longer suburbs, having long ago been annexed into a central city.) Those things that fill the driveways and line both sides of the streets are called automobiles. Just because you have something that was designed when people didn't have cars doesn't mean the people living there will drive any less today.
Siegel also ignores the costs of his fantasies. He says of streetcar suburbs, "Shopping and public transportation were a five-minute walk away." Yes, and the average grocery store in those days sold 300 different products (compared with 30,000 in today's average supermarket). If it had any fresh food then, it was seasonal only. The public transportation rattled along at about 10 or 11 mph, only after a long wait at the corner. The nickel fare sounds cheap today, but only white collar workers could afford to live in neighborhoods like this and regularly ride streetcars.
Siegel imagines that, if we had commuter trains instead of freeways, most commuting would shift to rail. Is there any urban area in a developed country in the world in which most commuters take trains to work? Maybe Tokyo and Hong Kong, where urban population densities are several times greater than Manhattan. Not anyplace that looks like a streetcar suburb.
New Urbanism is fine if you want to live that way. Most people don't. Siegel's notion that he can somehow make New Urban living acceptable by imposing it through top-down political action instead of top-down urban planning betrays his ignorance of government planning, which, after all, is really just a form of top-down political action.
It also betrays his ignorance of what freedom and democracy are all about. Democracy doesn't — or shouldn't — mean freedom to impose your lifestyle preferences on others through some kind of semi-democratic process. It means setting up a system in which everyone is responsible for the costs of their choices and then letting everyone choose for themselves.