The Washington Times has uncovered a nearly decade-old accounting scandal in which Amtrak employees deliberately falsified financial statements to make it appear that the government-owned company was more financially solvent than it really was. The employees were eventually terminated, but not until they had spent $150,000 of taxpayers' money defending themselves from charges of fraud and misrepresentation.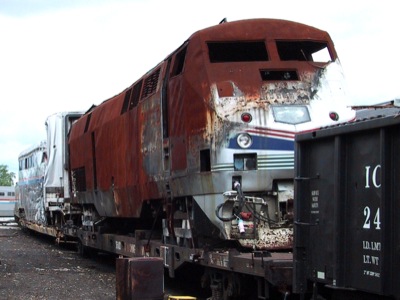 Amtrak needs work.
Flickr photo by JFeister.
But Amtrak deceptions go back much further than just to 2001, the year in which the fraud was supposed to have taken place. In the 1980s, Graham Claytor — who many rail fans still regard as the best president Amtrak ever had, largely because Claytor had supported passenger trains and steam locomotives when he was president of the Southern Railway in the 1970s — responded to the Reagan White House by repeatedly promising that Amtrak would be able to cover all of its operating expense out of passenger fares.
Almost as soon as Claytor retired, his replacement, Thomas Downs, repudiated those claims and said that Claytor had been misleading people and deferring maintenance to make trains appear more cost effective. Of course, Downs took office when Clinton was president and he probably thought he could get a windfall from a Democratic White House and Congress. By 1995, when Republicans had swept Congress, Downs too began claiming that Amtrak could run without operating subsidies by 2002.
As late as 2003, Amtrak was still telling Congress that it was on its way to self-sufficiency. In fact, it was mortgaging the properties it owned, such as New York's Penn Station, in order to stay afloat.
The Democratic takeover of the White House and Congress in 2009 allowed Amtrak to give up any pretense that it will ever become operationally self-sufficient. Instead, Amtrak officials like to tell you that Amtrak ridership is on its way up. What they mean is, it is on its way down (see p. A-2.1). Or, to be more precise, it went up in 2008 when gas prices reached record levels, and it has declined since then.
Here's how good Amtrak is doing: In 2008, Amtrak carried almost exactly the same number of passenger miles as the private railroads carried in 1970, the year before Amtrak took over passenger trains. So after 38 years of government ownership — years in which the nation's population more than doubled grew by more than 50 percent — intercity rail patronage is right where it was in 1970 (but declining). By comparison, over the same period driving increased by 125 percent and transit ridership grew by 43 percent — anemic compared with driving (or almost anything else) but huge compared with Amtrak. Doesn't that make you want to blow a few hundred billion dollars on moderate-speed rail?