Pity the poor city of Portland. It wants to build more streetcar lines, and its Godfather Earl created a special slush fund small starts program in the recent transportation bill for such new rail lines.
Only now the evil Federal Transit Administration (no doubt goaded by the evil Bush Administration) says that it will only give out small starts grants if cities can show that streetcars are more efficient than buses. Waahhh!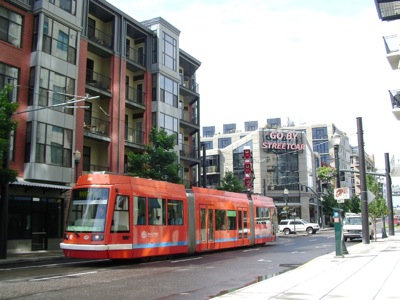 Portland's streetcar passes through the Pearl District, which received hundreds of millions of dollars of federal and local subsidies thanks to Portland's former godfather, Neil Goldschmidt.
Flickr photo by NeiTech.
This isn't really news. When the Federal Transit Administration published its rules for small starts, other cities that wanted streetcars realized that the rules favored things that, you know, actually moved people, so they all dropped out of the competition. Portland was the only city that submitted a streetcar proposal, and now (unless Godfather Earl can somehow intervene) it looks certain to be rejected.
Of course, the headlines — "Federal rules prefer buses" — have it wrong. The FTA does not prefer buses, it prefers cost effectiveness. Why spend a hundred million dollars on a streetcar line when you can start up equal or better service with buses for two or three million? But, for some reason, the Oregonian and other streetcar advocates think that disseminators of federal tax funds should "give preference" to slow, inflexible, expensive rail lines over buses.
Other cities, including Kansas City, Los Angeles, Seattle, and Springfield, Oregon, are using small-starts funds to extend bus-rapid transit service. Kansas City's 13-mile Troost Corridor, for example, is expected to cost $31 million. That's less than one mile of a double-track streetcar line. Bus-rapid transit operating costs are probably lower and ridership gains higher than for streetcars. Too bad the FTA is "biased" in favor of buses!
Streetcar advocates often say that 7-mile-per-hour streetcars aren't about transportation, they are about economic development. But they expect the Department of Transportation to pay for them out of highway user fees. Why didn't they ask the Department of Housing and Urban Development for the money?
Of course, the Antiplanner doesn't believe that streetcars catalyze economic development. Instead, they merely catalyze more tax subsidies for economic development. Portland spent $90 million on a streetcar line and $665 million on subsidies to development — then credited the development to the streetcar line. Yeah, right.
Meanwhile, a Portland newspaper writer complains that taking transit on the nine-mile trip from his home to work takes 2 hours and 22 minutes. What he doesn't say is that this is because a key link between his home and work, the 1925 Sellwood Bridge, is crumbling away and has been closed to buses since 2001. Portland transit and Portland auto drivers must both suffer because Portland places a higher priority on building streetcar and light-rail lines than replacing old bridges.