After the Antiplanner started writing about driverless cars, I received a lot of emails congratulating me for jumping on the PRT bandwagon. I just had to roll my eyes, as I've argued since 2003 that driverless cars are the reason why PRT, short for personal rapid transit, will never happen.
First proposed in the 1970s (see these 1976 studies done for Minneapolis-St. Paul and Denver), PRT has attracted a fanatical following. Even though no PRT system has ever been built, they are convinced it is cheap, fast, convenient, energy efficient, and everything else that ordinary transit is not. If you believe everything you read on the web, you would think there are at least a dozen gigantic companies producing PRT lines, including Taxi 2000, ULTra, and many more.
ULTra actually built a 2.4-mile line connecting a parking lot with the terminal at Heathrow Airport. Including 18 vehicles capable of going 25 mph (a bit short of the 180 mph promised in the video), this line cost $41 million, or $17 million per mile. While it may save Heathrow the cost of bus drivers, this is hardly cheap considering freeways cost as little as $2.5 million per lane mile plus right of way (which probably isn't included in the $41 million Heathrow cost).
The one demonstrator PRT line built in the U.S. is in Morgantown, West Virginia. To work properly, PRT is supposed to be a grid network reaching every corner of town, but the Morgantown example is only one line. Like pretty much every rail transit plan in America, it ended up costing far more than projected, with the price tag rising from initial estimates of about $15 million to $130 million, or about $16 million ($37 million in 2010 dollars) per mile including 71 vehicles capable of going 30 mph. According to users (as reported by an intense PRT skeptic who also happens to be anti-auto), it frequently breaks down.
While ordinary PRT vehicles are captive to the system, the PRT cultists attracted to my driverless cars article focused on a variant known as dual mode. In this system, cars would operate independently on ordinary streets, then somehow join a mass transportation system on major roads. As with PRT, there is a huge cottage industry of web sites devoted to competing versions of dual mode: TriTrack, MegaRail, Rapid Urban Flexible (RUF), the incredibly clumsy Pullway, and a clunky Japanese vehicle that has both rubber tires and steel wheels (which would add thousands of pounds of weight to the vehicle).
Dual-mode advocates are right that only a dual-mode system can combine the flexibility of automobiles with whatever are the supposed advantages of PRT. The problem is that every dual-mode (and PRT) proposal requires a massive investment in new infrastructure. Driverless cars will not.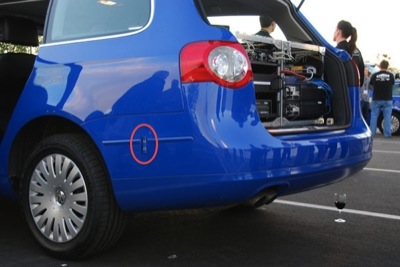 Sensors such as the lasers indicated within the oval will detect potential obstacles all around driverless cars.
Although some of the original driverless car proposals called for magnets in roads that the cars would sense, auto manufacturers have given up on highway agencies ever installing such magnets. Volkswagen says that enhanced GPS technology can locate a car to within 2 centimeters of where it wants it to be. When combined with sensors such as radar or lasers, each car can independently go where it wants to go without any centralized computer control that is envisioned by most of the PRT proposals.
Supposedly, an advantage of autos (and dual-mode) over ordinary PRT is that the autos are individually owned and so people would take better care of them. But Volkswagen's projection of autos in 2028 actually envisions that most cars would be shared, and people would just order the kind of car they want when they want it. That's possible, but I suspect many people will still want to own their own car, especially if, when they are done with it, they can simply tell it to go park itself.
PRT and dual mode have no future. Passenger transportation in the future will increasingly trend toward driverless cars. This means cars will take over the jobs once done by drivers — steering, braking, accelerating — until the driver will be there only in case of an emergency. Although some legislation will be needed to update motor vehicle law, little or no new infrastructure will be required.