A new report from the Federal Transit Administration says that America's transit agencies need $77.7 billion to bring their systems up to a state of good repair. This report is an update to a previous report that just looked at seven of the nation's leading transit systems (Boston, Chicago, New Jersey Transit, New York, Philadelphia, San Francisco BART, and Washington Metro).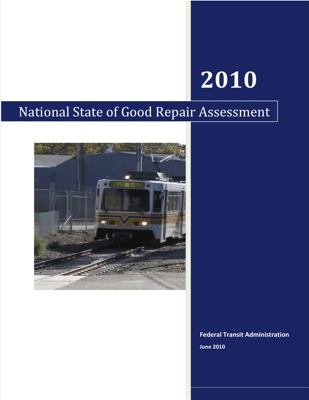 That earlier report found those seven systems had a maintenance backlog of about $50 billion, about 94 percent of which was due to rail transit. The new report looks at all transit systems and says that the national total for rail transit is $59.2 billion while other transit is $18.4 billion.
Rail transit systems need major reconstruction when they reach about 30 years of age. Other than the seven systems examined in the earlier study, only Atlanta, Cleveland, New Orleans, and Pittsburgh rail systems are older than 30 years old, so they probably make up much of the $12 billion rail backlog identified in the new report over and above the $46.8 billion in the previous report. However, rail systems in San Diego, Miami, and other cities will turn 30 soon so, unless those cities miraculously escape the backlog problems, they will add to the tally.
Page 21 of the new study estimates that the share of transit assets that are "exceedingly unreliable" will increase from about 17 percent today to close to 30 percent by 2030.
The study has no real solutions for this deteriorating situation other than to spend more federal dollars on transit or for the FTA to provide "technical assistance" in asset management to transit agencies. But agencies don't need technical assistance; they need financial discipline to stop them from obligating future taxpayers from having to spend billions rehabilitating systems they can't really afford.
The report could have suggested that Congress should stop spending money building new rail lines until existing lines have been brought up to a state of good repair, or that cities with rail lines that are not in a state of good repair should be made ineligible for New Starts grants for building new rail lines. Either of these policies would have given agencies incentives to focus on maintaining their infrastructure instead of building new lines. The authors of the study are no doubt aware that members of Congress, like politicians everywhere, prefer to fund new projects over maintaining old ones. Thus, the maintenance backlogs and resulting safety problems are only going to get worse.