The Denver International Airport (DIA), one of the 20th century's great planning disasters, has been cursed with an angry blue mustang that threatens to stomp anyone who says anything bad about the airport. Built at a cost of $4.8 billion — $2 billion more than originally projected, the Denver airport is 25 miles from downtown Denver — or, as the locals say, halfway to Kansas.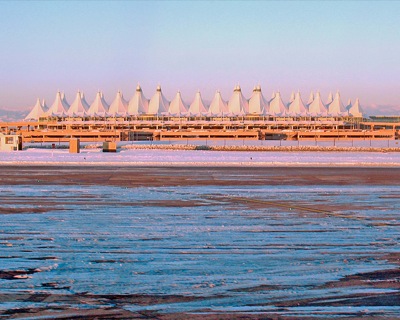 Halfway to Kansas.
Flickr photo by thomas23.
DIA was such a bad idea that even the planners objected. I once found a document prepared by the Denver Regional Council of Governments predicting that the airport would be way to expensive, and to pay for it they would have to raise gate fees, which would cause Denver to lose one of its hub airlines. That is exactly what happened: rather than participate in this boondoggle, Continental moved its hub to Houston.
Ironically, years later, when I was helping people oppose Denver's FasTraks rail plan — another multi-billion-dollar boondoggle — I sometimes would hear people say, "People said DIA wouldn't work, and look at what a great success it turned out to be!" I guess by "success" they mean, "the city didn't go bankrupt."
Mayor Federico Peña, the airport's main proponent, was rewarded by being named U.S. Secretary of Transportation. But that is the way government works: you get rewarded for wasting more money than anyone else. The person who created the Washington Public Power Supply System (known as "whoops"), which resulted in the largest municipal default in U.S. history, was made Secretary of Energy.
DIA's cost overrun was a blessing for publicly subsidized artists, who benefit from one of those 1-percent-for-art laws, this one passed by the Colorado legislature in 1977. Not only did artist enjoyed a $48 million bonanza during airport construction, every time some part of the airport is remodeled (even if by a private company such as United Airlines) they have to dedicate 1 percent of the cost for art.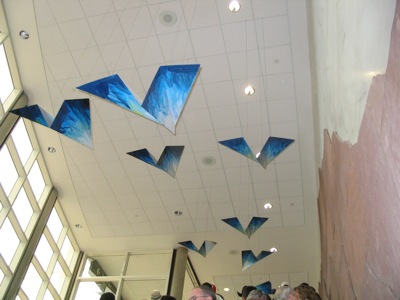 Public airport art.
Flickr photo by Mr. Jincks.
All kinds of wacky things get put up in the name of public art. In this case, it is a 32-foot-tall blue statue of a horse that cost $300,000 to make and $350,000 to ship and install. You'd think they'd specify an orange horse (for the Denver Broncos), but the artist was apparently temperamental and didn't appreciate interference in his work.
This turned out to be a complete lose-lose situation: Taxpayers who have to pay this lose; air travelers who have to look at it lose. Normally, the only winner from a situation like this is the artist, but in this case even the artist lost: he died when a piece of the horse fell on him. See where temperamental gets you — or public subsidies, for that matter.
The Antiplanner thinks Congress should pass a 1-percent-for-economists law. Under this law, any economists who successfully stop boondoggles like the Denver airport should be rewarded with 1 percent of the money they save the taxpayers.