Click here for part 1.
After lunch at a typical Texas restaurant, our buses trundled out to Sienna Plantation, one of more than two dozen master-planned communities in Fort Bend County alone. Fort Bend is one of ten counties in the Houston meto area. Covering 10,500 acres, Sienna Plantation includes churches, schools, shops, parks, and single- and multi-family homes. The developer, Johnson Development Company, purchased the land, built levies to protect the area from floods, subdivided it, installed utilities, and sells parcels to builders, the local school district, and other companies. Johnson does not build any homes itself.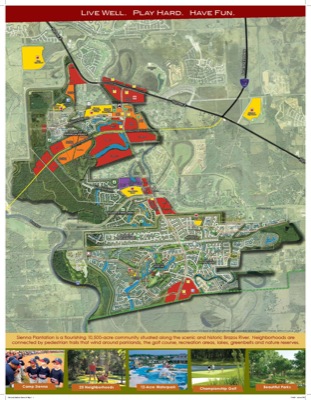 A map of Sienna Plantation. Click for a larger view.
Unlike parts of Houston, Sienna Plantation has separated the various uses. Multifamily housing (orange) is close to the commercial and retail centers (red) — "you need multifamily to support the retail" said our tour guide. The single-family neighborhoods are themselves separated by the size of the homes: one neighborhood might have 2,000- to 2,500-square-foot homes, another 2,500 to 3,000, etc. Johnson sells lots only to home builders except for the half-acre lots in Bees Creek (center above), which are available to buyers who want custom homes that still must be built by one of Johnson's approved home builders.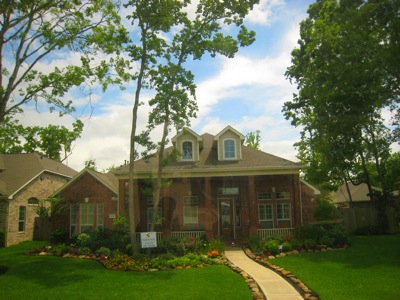 This home is probably selling for about $180,000.
A price list indicate that homes start in "the $160s," as realtors say, and go up to $2 million or so. Basic homes cost about $80 a square foot, roughly half as much as in Oregon and less than a quarter as much as most of California. Deed restrictions require, among other things, that exteriors not use wood siding — which seems strange to this Northwesterner where nearly all homes are made of wood.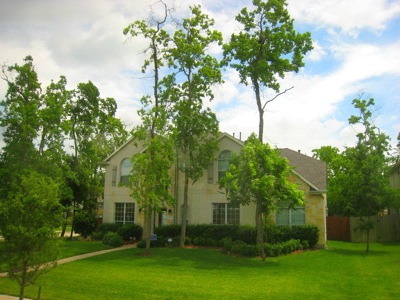 This is probably somewhat more expensive, but two-story, four-bedroom, 2-1/2 bath homes with 2,300 square feet are available for as little as $185,000.
To provide sewer, water, and other utilities, Johnson created several municipal utility districts, which repay the capital costs out of annual assessments on the homes. Johnson also added a deed restriction to all homes requirng that one-half percent of sale and resale prices be dedicated to a community services foundation. In its first eight years, this foundation spent about $3.3 million, about two-thirds of which went for community parks, and the rest to things like schools and help for children of local families with serious diseases.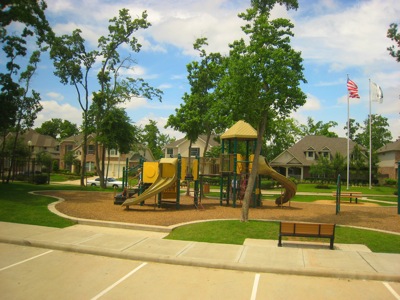 Sienna includes 36 parks and playgrounds, including a 12-acre water park, baseball and soccer fields, and many small playgrounds like this one.
Johnson also created a Sienna homeowners association — in fact, several: one for each local neighborhood and an umbrella for the entire area. Until the development is complete, however, Johnson itself maintains controlling votes on the association boards. This is to protect it from residents who may want to pull up the drawbridge before the area is built out. When it is complete or nearly complete, Johnson will quietly hand over control to the homeowners.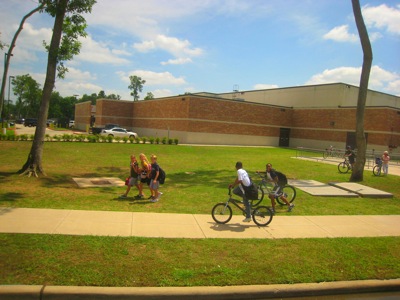 School had just let out when we passed by one of the five schools in Sienna.
While home prices are much lower, property tax rates in the Houston area are higher, especially when the municipal utility district assessments are counted. Most Sienna homeowners pay about 3.5 percent of assessed value plus about $800 a year to the homeowners association. According to census data published by the National Association of Home Builders, Fort Bend County residents pay about twice the tax rates as homeowners in Oregon. But since a home of equal value is twice as big in Texas, effectively people pay about the same taxes for similarly sized homes.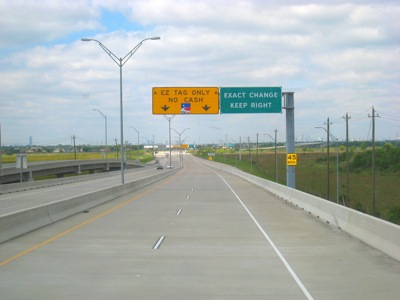 The Fort Bend Parkway.
After finishing up our tour of Sienna, we took the Fort Bend Parkway, one of the region's many toll roads, back to Houston. This 6.2-mile, four-lane highway required just over a year to build and opened in 2004 at a cost of $60 million. That's less than $2.5 million per lane mile, including on- and off-ramps, over- and underpasses, and toll facilities. By comparison, $60 million would barely get you one mile of light rail and less than a mile of heavy rail. The toll for the 6.2 miles was $2, even for our full-sized buses.
If I lived in Sienna, I am not sure I would ever want to go to Houston itself. But if I did, it would be nice to know I could get most of the way without facing any congestion.
I'll provide more commentary in future posts.