Urban areas like Portland are sorting themselves, with young people who like the New Urban lifestyle moving to city centers and families with children moving to the suburbs. People have noticed other sorts across the country, such as blue cities and red rural areas.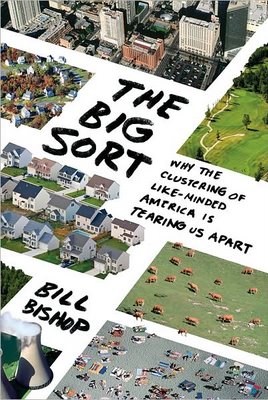 Someone has written a book about this titled The Big Sort: Why the Clustering of Like-Minded America Is Tearing Us Apart. This sorting, says co-author Bill Bishop, is happening at a neighborhood level, and one of the problems is that many people rarely encounter or talk with people who have different histories, lifestyles, or political views. I confess I haven't actually read this book yet, but I've ordered it and will do so as soon as it arrives.
As the Economist points out in its review of the book, "Because Americans are so mobile, even a mild preference for living with like-minded neighbours leads over time to severe segregation. . . . When a group is ideologically homogeneous, its members tend to grow more extreme." This is why we are becoming more polarized.
Bishop gives examples of this in his book, excerpts of which you can read on his Big Sort web site. As a former liberal, I find it sad that so many of his examples are of leftists shutting out other points of view. We can see this in the New Urbanists who think everybody should live like them. But I suppose this is a predictable response no matter what the political view.
What should we do about this? One of the goals of the New Urbanists was to build mixed-income communities so that people would be more likely to rub shoulders with others who weren't the same as them. I doubt this is working very well, and income isn't a major factor in the big sort anyway.
Instead, we each need to make more efforts to communicate with others who are different from us. The Antiplanner has always appreciated the fact that DanS, D4P, MSetty, and other loyal opponents so frequently comment on this blog so that everyone can be exposed to other views. I frankly admit that I have often learned from their comments.
We also need to keep our discussions civil, and I appreciate Francis King's comment (comment #24) the other day reminding some of our other commenters to focus on the facts, not name calling. (Though I'd like to believe that the name calling was good natured, someone new to the blog might not see it that way.)