A decade or so ago, an Economist senior editor named Frances Cairncross wrote a book called The Death of Distance which argued that, thanks to declining transportation and telecommunications costs, distance really doesn't matter anymore. So it is ironic that another Economist writer, Ryan Avent, has written a new book arguing that "Distance is not dead" and proximity to other people still matters.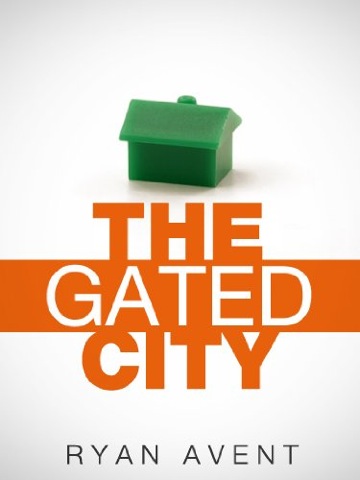 The Antiplanner previously mentioned this book, The Gated City (available only from Amazon in Kindle format for $1.99), a couple of weeks ago, but now I've finished reading it and can write a more detailed review.
Ryan's book makes the following argument:
1. Denser cities are more productive
2. Due to NIMBYs, denser cities also have higher housing costs
3. Get rid of the NIMBYs, and cities will become even denser and more productive
Each of these steps is either flawed or deserves closer scrutiny than given by Avent's short book. In support of the first point, Avent cites research showing that denser American cities have higher labor productivity. For example, a 1996 study uses 1988 data to show a correlation between the urban densities and the wages and salaries earned in the various states such doubling job density raises incomes by 6 percent.
Six percent isn't very much, and in order to reach even this conclusion, the authors of the study left out states that had lots of mining industries, which depend more on mineral density than population density. If they hadn't left those states out, Alaska would have been the most-productive state. Even if some industries do benefit from density, not all do.
Avent cites several other studies, but does not mention this one, which compares density with technological innovation, a field that–unlike mining–strongly depends on the personal contacts that supposedly are gained from density. The study did find a correlation between density and innovation, but it also found an optimal density and an optimal city size. In other words, at some point, more density is no longer better. In particular, the optimal urban area size is about 750,000 people and the optimal density is about 2,000 jobs per square mile–roughly Baltimore or Philadelphia. Baltimore and Philadelphia are far from the nation's densest urban areas, and in fact Houston is right between them.
Another problem with Avent's first claim is that most of the studies he cites compare the relationship between density and productivity at a single point in time. But the whole point of The Death of Distance is that this relationship is getting weaker all the time. This study, for example, found that the correlation between density and productivity declined from 41 percent in 1940 to 7 percent in 1980. It seems likely that, by the time any city can do anything about its density, the benefit of being denser will be negligible.
Avent's second step is to blame the high housing costs in more productive cities on NIMBYs. While that is a convenient excuse, he should have looked closer. Why are NIMBY's more active in these cities than in places like Houston or Atlanta? Just what is the process that allows NIMBYs to play such a strong role in these cities?
Avent's examples focus on Boston, New York, the San Francisco Bay Area, and Washington. These are slow-growth regions characterized by having a lot of small jurisdictions most of which have zoned for low densities. The result is that high-density portions of these regions–inner Boston, Manhattan, San Francisco, the District–are hemmed in by cities and towns hostile to growth. This is very different from smart growth, which seeks to increase densities. Yet, ironically, the densities of these areas are all fairly high.
All of Massachusetts is in a city or town; there are no unincorporated lands and counties play no role in land-use planning. The San Francisco Bay Area has lots of unincorporated lands, but these have been placed outside of development by urban-growth boundaries. Washington is surrounded by Maryland and Virginia cities and counties, the county areas of which have limited development through large-lot zoning. Avent fails to recognize that these are three very different approaches that all happen to increase housing costs.
Perhaps the greatest flaw is in the third step of Avent's reasoning. "I don't wish to tell anyone where to live, and I certainly don't want the government having its way in the matter," says Avent. But if the NIMBYs and their urban-growth boundaries and large-lot zoning disappeared, these regions would all become less dense, not more dense. Housing costs would become more reasonable, and the areas might actually become more productive, but not because of density.
The trouble is that, although Avent doesn't support coercive government policies, many other density advocates do. And Avent specifically cites transit-oriented developments as a way of increasing density without realizing the huge amount of coercion that is required for many of those developments, including prescriptive zoning, tax subsidies, and artificial restraints on low-density development so that some people will have little choice but to live in the higher densities.
Distance may not be dead yet (and Cairncross didn't say that it was), but it is dying as a force in shaping modern urban areas. Anyone who plans a city based on Avent's plea for density is relying on last-century's economic models.