While many people believe that European travel modes are quite different from those of the United States, a close look at the data reveals two main points. First, Europeans travel a lot less than Americans: including flying, the average American travels about 85 percent more miles per year than the average Western European. Second, the percentage shares of various forms of travel are about the same except that Europeans travel a little more by rail and a little less by auto.
But what about trends? Is Europe becoming more like the U.S., with increasing overall mobility, rail's share declining, and auto's share increasing? Or have Europe's high-speed rail programs and urban transit policies led to a resurgence of rail travel?
We can answer these questions based on three sources of data. First, in 2004 the European Union published a report titled Key Facts and Figures About the European Union and included transportation data, broken down by air, rail, bus, trams & metros, and autos, in part 3. The numbers were mode shares for 1980 and 2000.
Second, in 2009 the European Union published Panorama of Transport, with passenger kilometres of travel by country for 1990, 2000, and 2006. The data were broken down by auto, bus, rail, and trams & metros. The report also included air travel data for the EU-27 but not broken down by country.
Finally, Eurostat's web side includes transport data including the modal split of passenger transport by country and year from 1990 to 2010. However, the only modes considered are rail, bus, and auto–trams & metros are ignored. Eurostat also has population data by country and year for the same range of years.
EU-15 Passenger Miles Per Capita by Mode
| EU-15 | 1990 | 2000 | 2006 |
| --- | --- | --- | --- |
| Auto | 6,519 | 7,802 | 7,916 |
| Bus | 772 | 812 | 814 |
| Rail | 565 | 544 | 599 |
| T&M | 103 | 111 | 120 |
| Total | 7,959 | 9,268 | 9,449 |
Based on Panorama and the population data, the above table shows that per capita travel grew significantly between 1990 and 2006. Of the modes broken down by country, auto travel grew the fastest, but a chart on page 100 of Panorama shows that air travel grew even faster. The above table just shows the EU-15, as data are only partially available for the former soviet countries, but those data suggest that auto travel grew even faster in those countries.
Passenger Mode Share in the EU-15
| EU-15 | 1980 | 1990 | 2000 | 2006 |
| --- | --- | --- | --- | --- |
| Rail | 8.4 | 7.1 | 6.7 | 6.9 |
| Bus | 11.9 | 9.7 | 9.0 | 8.6 |
| T&M | 1.4 | 1.3 | 1.2 | 1.3 |
| Auto | 78.3 | 81.9 | 83.1 | 83.3 |
The above table uses Key Facts & Figures and Panorama to show the shares of travel by mode from 1980 to 2006. Auto's share grew significantly, but most of this growth was between 1980 and 2000. Since 2000, rail recovered slightly, though mainly at the expense of bus transport.
Rail, Bus, & Auto Share in the EU-15
| EU-15 | 1980 | 1990 | 2000 | 2010 |
| --- | --- | --- | --- | --- |
| Rail | 8.5 | 7.2 | 6.7 | 7.4 |
| Bus | 12.1 | 9.8 | 8.7 | 8.3 |
| Auto | 79.4 | 83 | 84.6 | 84.4 |
Eurostat data allows us to extend the previous table through 2010, though at the loss of the trams & metros mode. The data confirm that rail's share grew between 2000 and 2010, mainly at the expense of buses, but there was also a slight decline in auto's share after 2006.
[table "17" seems to be empty /]
The above table shows us exactly where rail gained. The starred (*) countries are in the EU-15 while the daggered (†) countries are the added countries that form the EU-27. Among the EU-15, rail's largest gain was in Britain (42% increase after 2000), followed by Sweden (25%). Rail also gained about 15 percent in France, but experienced no gain in Spain despite that country's heavy investment in high-speed rail. Switzerland, which is not in the EU, also saw a large (39%) gain in rail's share.
We know that Britain "privatized" (really, franchised) its rail system in the mid-1990s. The incentives given to the rail contractors for increasing ridership are probably the main reason why that country has had the largest increase in rail's share. I don't know the exact details about Sweden or Switzerland, but neither have high-speed rail. Sweden, along with Germany and the Netherlands, has franchised some of its rail routes, while several routes in Switzerland are private and unsubsidized. It would be worth learning more about Switzerland's rail system as rail there apparently has the highest market share of any developed country.
Some people believe that Britain's franchising system is a failure, but the main complaint about it is that, instead of saving taxpayer money, overall subsidies actually increased. That's probably because the subsidies were keyed to ridership, and private operators were very successful in increasing that ridership. As near as I can tell, subsidies per passenger mile stayed about the same.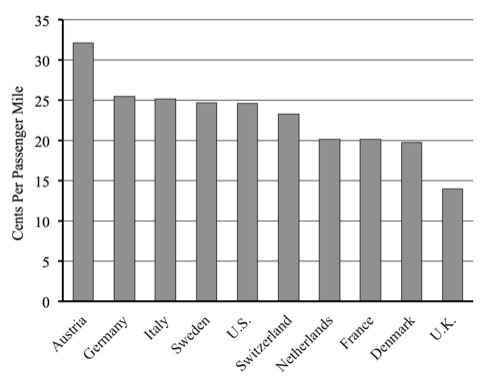 Average subsidies per rail passenger mile between 1995 and 2003. Source: Amtrak Inspector General report, page 7, with overall subsidy divided by the average passenger miles carried in 1995, 2000, and 2004.
Those subsidies also appear to be lower than subsidies in other European countries. Four years ago, the Amtrak Inspector General published a report comparing European rail costs with Amtrak's costs from 1995 to 2003 (British rail routes were franchised between 1995 and 1997). Far from being unsubsidized, the Inspector General found that European nations heavily subsidized their rail lines, and often disguised those subsidies in various ways. As shown in the above chart, Amtrak's average subsidies per passenger mile were about the same as in most European countries except for Austria, which was much higher, and Britain, which was much lower.
All of which leads me to conclude that franchising–at least, if done right–could probably do far more to increase rail ridership than building high-speed rail. Amtrak privatization, on the other hand, would be likely to save taxpayers money, but may not lead to an increase in rail's market share, at least nationally.