After Hurricane Katrina, some people argued that we shouldn't rebuild New Orleans, not simply because it was below sea level but because the city was economically and politically dysfunctional. The same argument could be made for the New York City subway system, which was so heavily damaged by Sandy that repairing it could cost "tens of billions of dollars."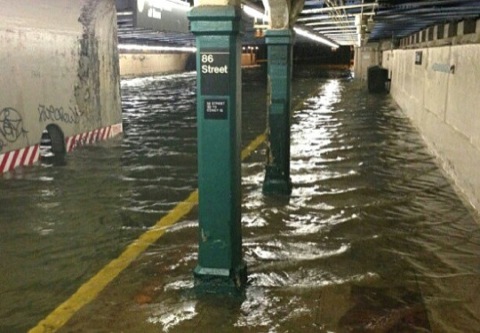 You could always swim to work.
It's not just the subways, of course: the entire transit system has been damaged. But in the suburbs, at least, buses on streets can easily substitute for rail.
The issue with the subways is not that the cost of repairing the system is so high but that maybe it doesn't make sense anyway. New York is the only city in the country that truly depends on rail transit. More than 60 percent of commuters in Brooklyn, the Bronx, and Manhattan, and 51 percent of those in Queens, get to work on transit. This transit, and particularly the subways, supports ridiculously high population and job densities: Manhattan is about 20 times denser, and Brooklyn and the Bronx 10 times denser, than they would be if we built them today.
Transit, particularly subways, is vital to those densities because the city's street network–particularly in Manhattan–simply cannot support all the density by itself. New York subways are the only rail lines in America that move more people per rail mile than urban freeways move per lane mile. Having them thus significantly increases the ability to move people into, around, and out of Manhattan and the other boroughs.
As long as New York already had a subway, it probably made sense to maintain it. But building new subways, such as the Second Avenue subway which is costing more than $2 billion a mile, makes no sense. Will it make sense to perform costly repairs of the subways heavily damaged by Sandy?
There are those who argue that density has a great economic value and that all cities would be denser if it weren't for barriers put in the way of density. On the other hand, if densities were lower, the damage from storms such as Sandy or other events such as earthquakes would be a lot lower.
Operating and maintaining New York's transit system costs $10 billion a year more than fare collections. While increasing fares by an average of $2.50 per ride could cover those costs, this wouldn't be enough as the system isn't being maintained to a state of good repair. Most of the subsidies come from auto users, out of either federal gas taxes or bridge tolls that are diverted to transit.
There are two alternatives to rebuilding the subways. The drastic alternative is to simply let the city fend for itself without subways. A more realistic alternative would be to convert the subways into underground busways. Electric buses could move just about as many people as the subways do with far less infrastructure.
Battery-powered buses in particular would require almost no infrastructure other than rechargers (and the tunnels themselves, of course, which as far as I know weren't damaged by the storm). At eighteen feet in height, the tunnels are tall enough for double-decker buses, which should be able to move about as many people per hour as the subway trains. With minimal added infrastructure, the buses could even be driverless, making them far less expensive to operate and maintain than rails.
It may turn out that only a few of New York's 400-plus route miles of subways were harmed by the storm. But if it was significantly more, the city should seriously consider beginning a transition from rail subways to bus subways.