On Monday, the Cato Institute will release the Antiplanner's latest paper, Stopping the Runaway Train: The Case for Privatizing Amtrak. Antiplanner readers can preview the paper today.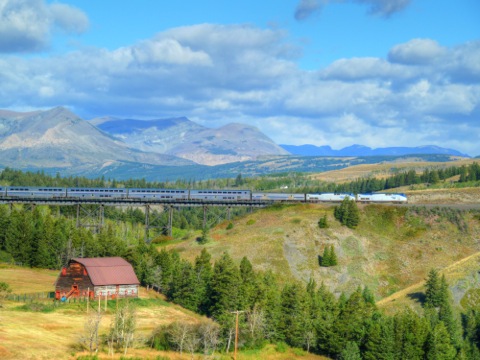 Amtrak's Empire Builder outside of Glacier National Park, September 13, 2010. (Click image for a larger view.)
The case against Amtrak is simple. Before Amtrak took over the nation's passenger trains, average rail fares were a third less than average air fares. Today, thanks to four decades of government management, average rail fares are more than twice average air fares. Moreover, subsidies to passenger trains are nearly ten times as great, per passenger mile, as subsidies to airlines (and more than twenty times subsidies to highway travel). When fares and subsidies are combined, Amtrak spends nearly four times as much moving one passenger one mile as the airlines.
The Antiplanner compared air fares with rail fares on a variety of routes and found that Amtrak was generally less than the airlines only on some routes under 400 miles. Buses were less than Amtrak regardless of the length of the route. Amtrak has become a classic example of government giving heavy subsidies to a service that is no longer competitive even with the subsidies.
Still, there might be a case for Amtrak if it were a major transportation provider. It is not. The average American travels about 1,900 miles a year by plane, 15,000 miles a year by car, and around 20 miles a year by Amtrak. Despite Amtrak's brags about record ridership, last year's average of 21 miles per capita was less than in 1990, when it was 24 miles per capita.
Even in the Northeast Corridor, Amtrak's most important market, Amtrak is insignificant. The average resident of the urban areas from Boston to Washington rides Amtrak all of about 42 miles per year. If Amtrak disappeared tomorrow, by Monday no one would notice any increase in highway or airport congestion.
Some, including Republicans on the House Transportation Committee, are looking at ways to reform Amtrak. But reform is pointless, argues the Antiplanner; so long as Congress is funding it, routes will be determined by politics, not markets, and the system will waste a lot of money.
Privatizing Amtrak doesn't mean an end to all passenger trains, though it probably means an end to some. Based on data provided on pages 19 and 20 of the report, I suspect passenger trains in the Boston-to-Washington corridor would survive, along with New York-Florida; New York-Charlotte; New York-Montreal; and a few other Eastern and Midwestern corridors. Whether those trains could earn enough money to pay for new equipment after the current equipment (which Amtrak would sell to private operators) wears out is another question.
Amtrak's California trains are highly questionable as they are some of the poorest performers in the Amtrak system. Daily long-distance trains in the West would probably be replaced by weekly and/or seasonal cruise trains. When Canada stopped running trains from Vancouver to Banff and Calgary, a private company called the Rocky Mountaineer entered the market with cruise trains, and it has since grown to offer four different routes. Such cruise trains typically operate only about once a week and are aimed at completely different markets from Amtrak.
As a rail fan, I would be sad to see the trains go except they are so poorly run by Amtrak that I don't even find them all that interesting anymore. As an economist, I have to argue that Amtrak should be abolished, but that this should be done in the context of a complete reform of our transportation system, including ending subsidies and other preferences to all forms of travel.