San Francisco has approved the construction of tiny apartments as small as 150 square feet. Previous zoning required a minimum of at least 290 square feet. New York City is considering a similar measure.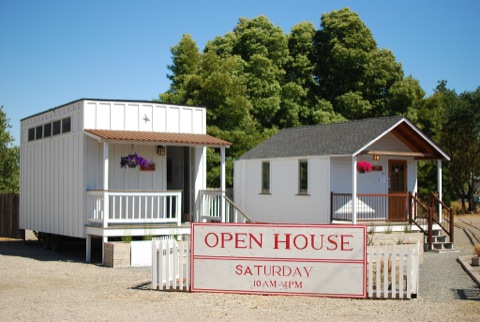 Tiny houses for sale in Petaluma, CA. Flickr photo by Nicolas Boulosa.
Meanwhile, construction of 200-square-foot single-family homes is growing popular in Washington, DC. Homes of 150 to 200 square feet sell for $20,000 to $50,000, or $133 to $250 a square foot.
People buying these homes talk about sustainability and living within walking distance of the shops and services they prefer. The Antiplanner certainly has no objection to people living in tiny homes if that is what they want.
But I have a question: Are there any tiny homes in Houston, where new home construction starts at around $50 a square foot, and used homes can sell for less than $20,000. Well, actually, the answer is yes, but for Houston a tiny house starts at 560 square feet. But, despite all the talk of low-impact living, I have a strong suspicion that tiny homes are far more popular in places with unaffordable housing such as Portland, San Francisco, and Washington than in places with affordable housing such as Dallas, Houston, or Raleigh.