The Antiplanner spent much of last week in San Antonio releasing a review of the city's plans for a downtown streetcar. The trip turned out to be a lot more hectic (and with a lot less Internet access) than I expected, which is why I made so few posts last week.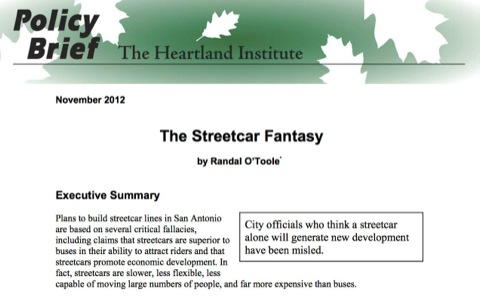 Sometimes I wonder if streetcars are tests of intelligence or gullibility, as they are such bad ideas it is hard to believe that cities are falling all over themselves to fund them. As I point out in my report, 100 years ago, both streetcars and automobiles went at average speeds of about 8 miles per hour. Today, autos routinely cruise at 80 mph (at least in Texas), but San Antonio's proposed streetcar will still go at just 8 mph.
The Antiplanner's report for San Antonio is called "The Streetcar Fantasy," partly because the feasibility study for the San Antonio streetcar is filled with fabrications and imaginary data. For example, page 68 the study discusses how the Boise streetcar was financed and page 69 discusses how the Arlington, Virginia streetcar contributed to economic development–yet neither Boise or Arlington have streetcars.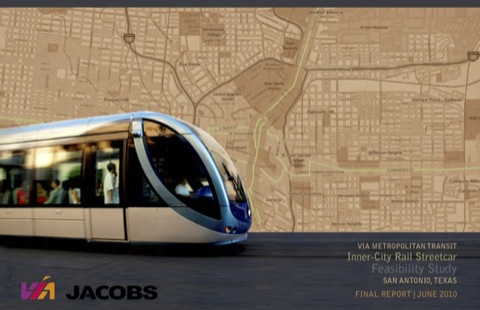 Page 53 of the feasibility study makes the bold assumption that rail vehicles will automatically attract 30 percent more riders than rubber-tired vehicles. "These calculations demonstrate the ability for rail service to attract choice riders," the study even more boldly asserts, yet the only calculations are to add 30 percent to ridership estimates due to the supposed "rail advantage." Similarly, the study blithely assumed that fares would cover 15 percent of operating costs (as if that is impressive), yet other streetcars in the country only cover, on average, 8 percent of operating costs.
My report showed that streetcars are just plain inferior to buses in every possible way. They are slower; can't carry as many people per hour; prone to system failure (if one is disabled, every car on the line has to stop); can't easily respond to changes in travel habits; and are far more expensive than buses.
Portland billed streetcars as a low-cost version of light rail–$20 million to $40 million per mile instead of $40 million to $80 million per mile. But those costs are per track mile for the streetcar and per route mile (which is two track miles) for the light rail, so streetcars really have no cost advantage over light rail.
Streetcar advocates seem immune to these facts. Instead, their notions are all based on the nostalgic fantasy of taking a railcar somewhere. "San Antonio is the largest city that doesn't have streetcars," said one advocate–as if they have to be just as foolish as everyone else.
In response to the "rail advantage" argument, the Antiplanner pointed out that even if people were so snobbish as to ride streetcars when they won't ride buses, there is no reason why taxpayers should subsidize snobs. Incredibly, the response I received was that snobs deserve urban transit too–even if their demands cost taxpayers four to eight times as much per trip or passenger mile as buses. "The nostalgic and hip need streetcars," said one writer.
"Bus routes can be very confusing," says another such self-admitted snob. In other words, the fact that rails are so expensive that they can only reach a few places is touted as a virtue. Apparently, if you can't get there by rail, it must not be worth going to.
This snob obviously fails the intelligence test. Life is about trade offs. If you want simplicity, move to a small town. If you want to live in a complex city, realize that any money the government spends on you will mean less resources for other people, including people who may need help more than you do. It is ironic that it is the so-called "progressives" who effectively advocate for reducing services to low-income people so they can have their snob transit.
Streetcar proponents are treating the streetcar as a done deal. Several years ago, San Antonio voters approved a penny sales tax for transportation on the promise that none of the funds would be used for rail transit. (For the record, the Antiplanner opposes the use of general sales taxes for any transportation.) To fund the streetcar, San Antonio's transit agency "swapped" $92 million of its share of transportation funds to the Texas Department of Transportation for state funds that could be spent on the streetcar. THe $92 million in local funds would be used on road construction projects that the state had already planned to fund. In effect, this was a money-laundering scheme.
Of course, $92 million is nowhere near enough to build the increasingly expensive streetcar system they plan, so the transit agency is now preparing the environmental documentation needed to get federal funding. Of course, the Obama administration, which loves streetcars, will be overjoyed to grant such funding.
Fortunately, there remain many potential stumbling blocks for streetcar supporters. Congress may run out of money before it can fund a San Antonio project. The Honolulu NEPA court case should make writing the environmental documents more difficult.
On the other hand, if San Antonio streetcar advocates prevail, they will pave the way for other Texas cities, such as El Paso, to do similar money-laundering operations so they, too, can build streetcar lines. Because streetcars are just what towns such as El Paso need to deal with all of the social problems that result from living on the border with Mexico. If El Paso really believes that, it fails the intelligence test as well.