Representative Earl Blumenauer (D-OR) has introduced a bill directing the Department of Transportation to start vehicle-mile fee pilot programs in every state and authorizing $150 million to fund the program. Since privacy is a major concern for many people, Blumenauer's bill wisely makes protection of personal privacy a top priority of the program.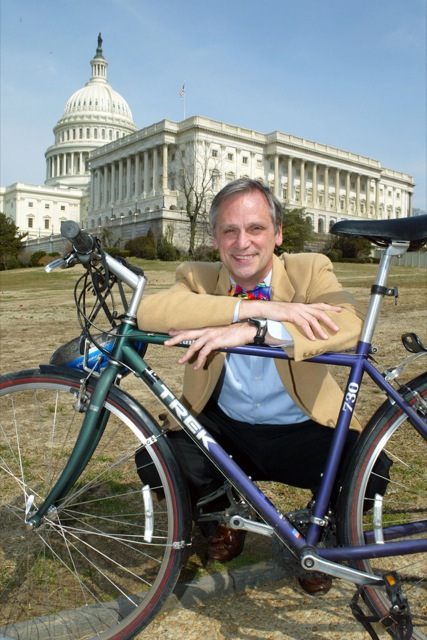 Oregon's bicycle-riding, bow-tie-wearing member of Congress.
Blumenauer's support for vehicle-mile fees is refreshing considering that, during the last Congress, the House passed a bill forbidding the Department of Transportation from even studying the possibility of such fees. (Fortunately, the otherwise-conservative member of Congress who introduced that bill ended up being a one-term congressman.) But Blumenauer's stance also has some questioning his motives as he is a major advocate of smart growth and rail transit.
In introducing the bill, Blumenauer noted that, over the past four years, Congress has had to transfer $48 billion in general funds to the Highway Trust Fund, and is currently spending $15 billion a year more on surface transportation than is coming in from gas taxes and other highway user fees. The Oregon representative obviously hopes vehicle-mile fees will help close the gap, allowing him and his colleagues to continue funneling billions of dollars into rail transit and other forms of travel that the Antiplanner considers to be obsolete.
Of course, Congress could also close the gap by just spending no more money than it takes in. As it happens, the annual deficits are roughly equal to the amount that Congress diverts to non-highway projects, so it is not that highways aren't paying for themselves; they just aren't paying for the pork Congress wants on top of roads. It is ironic if not hypocritical for smart-growth advocates to insist on diverting billions of dollars from gas taxes to transit and other non-highway programs, and then proclaim that such deficit spending proves that highways are subsidized.
Rather than a way for Congress to have more pork barrel, the Antiplanner sees vehicle-mile fees as a natural path towards devolving transportation funding to state and local areas. The only real justification for a federal gas tax is that the federal government has an inexpensive way to collect this form of user fees: it collects the tax straight from refineries and importers long before it reaches your local gas station. With vehicle-mile fees, the revenues can go straight to the road owners–meaning states, counties, cities, and in a few cases private owners–thus cutting out the need to have the federal government as a middle-man.
Obviously, Blumenauer doesn't see it that way. But the Antiplanner still welcomes his support for vehicle-mile fees. Once we get people over the hump of accepting a shift from gas taxes to vehicle-miles fees, then we can argue about what level of government collects them and how to make sure they are spent where they are most needed.