In 1985, the Hoosier Environmental Council hired the Antiplanner to review the Hoosier National Forest plan, which called for clearcutting most of the southern Indiana federal forest. My review uncovered a document admitting that planners had fabricated data to justify money-losing timber sales. Looking at the plan that was then in effect, I discovered that the forest had attempted to meet legal requirements for public involvement by having the forest's own soils scientist and biologist review the plan.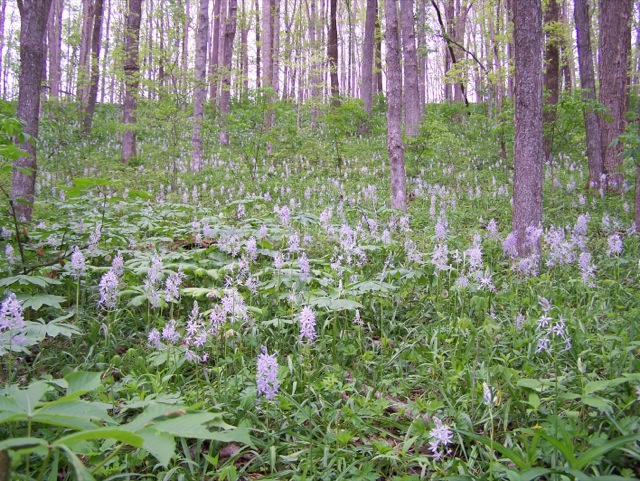 Wildflowers in the Hoosier National Forest. Forest Service photo.
Since this proved that the existing plan was illegal, and the proposed new plan was not credible, the Forest Service responded to my visit by shutting down the Hoosier Forest's timber program for more than a decade. Even after that time, it cut very little timber compared to what it had been cutting before 1985.
In the course of reviewing plans for the Hoosier and some 60 other national forests, I built up a database of tens of thousands of timber sales. The data and supporting background documents proved that the Forest Service designed sales with the primary goal of maximizing its budget and minimizing returns to the Treasury.
Under the Knutson-Vandenberg (K-V) Act of 1930, as amended in 1976, national forests could keep a nearly unlimited share of timber sale revenues to reforest the land and restore damage to wildlife habitat and watersheds caused by the timber cutting. This created a perverse incentive for the Forest Service to use clearcutting, which creates the harshest environment for reforestation and does the most damage to soils and watersheds, thus allowing forest managers to keep a large share–in some cases nearly all–timber sale receipts to repair the damage. What made this especially perverse is that clearcutting was unpopular with other forest users and the Forest Service, until the 1950s, was proud to say that it mainly used other, more visually sensitive, cutting methods.
National forest timber sales declined by 85 percent between 1990 and 1995, and I flatter myself by thinking that the 1988 publication of my book, Reforming the Forest Service, which revealed all this information, was a contributing factor. I know it led many Forest Service employees to question whether they wanted to continue to respond to their incentives in the way the book described.
I thought about this when I returned to Indianapolis this week and enjoyed the chance to renew a friendship with Tim Maloney, the Hoosier Environmental Council's policy director. I wasn't surprised that Tim and I are on the opposite sides of Indianapolis' transit issue, but I wonder why this is so.
Having worked myself out of a job challenging the Forest Service's timber program, I started studying transit in 1995. I soon found that the transit industry faces the same perverse incentives as the national forest managers. Just as the K-V Act gave the Forest Service incentives to use high-cost timber cutting methods–clearcutting instead of shelterwood or selection cutting–the New Starts program that Congress created in 1991 gave transit agencies incentives to choose high-cost transit systems–namely, rails instead of buses.
Just as the Forest Service developed a detailed (but flawed) rationale for why clearcutting was better, the transit industry has developed a detailed (but flawed) rationale for why rails are better. Just as Forest Service practices were supported by timber companies dependent on taxpayer-subsidized sales, transit agency policies are supported by rail contractors and railcar manufacturers dependent on subsidized rail projects. Just as clearcutting ultimately did more harm than good to many national forests, building rail lines has done more harm than good for transit riders in many cities.
Why were environmentalists able to see through the clearcutting scam but not the rail transit scam? Did the environmental community change? Are environmentalists correct that rails really are that much superior to buses? Or is it simply that trains are pretty while clearcuts are ugly?
The most visible change in the environmental movement is that it supports big government more strongly today than it did when I was active in it. But environmentalists supported rail transit in the 1970s and 1980s, so that isn't the reason.
Environmentalists like to say rails are more environmentally friendly than buses, but it doesn't take much effort to show that this isn't always true and even when it is true the benefits are small. Cars use an average of about 3,400 BTUs per passenger mile and buses use about 4,000. Portland's commuter train uses nearly 4,500 BTUs per passenger mile, and Nashville's uses 7,000, and their Diesel locomotives spew proportionately more greenhouse gases into the atmosphere.
Light rail on average uses 3,500 BTUs per passenger mile, less than buses but more than cars. Many light-rail lines, including those in Baltimore, Cleveland, Dallas, and Pittsburgh, use 5,500 to 9,000 BTUs per passenger mile. Even the ones that save energy in day-to-day operations required decades' worth of that savings to build the lines. Except in California, Oregon, and Washington, the electricity powering light-rail lines comes mainly from burning fossil fuels, so they are also not greenhouse friendly.
The only form of transit that is truly energy efficient is van pooling, which averages less than 1,400 BTUs per passenger mile. Van pooling, of course, is just transit with cars. Though only about 60 urban areas have van pooling programs, you don't hear many environmental groups pushing for an expansion of van pooling.
I suspect it really comes down to aesthetics. Compare photos of a clearcut with a wilderness and most people will choose the latter (which doesn't mean they stop using wood products). Compare photos of a traffic jam with a sleek train and most people will choose the latter (which doesn't mean they stop driving and ride the train).
In addition to helping to reform the Forest Service in some small way, my work also helped transform the public lands portion of the 1970s and 1980s environmental movement from one focused mainly on aesthetics to one that was acutely aware of scientific concepts such as wildlife habitat relationships, silviculture, and economics. If the environmental movement has changed since then, it is that it has lost that scientific focus and gone back to relying on aesthetics. That ultimately harms both the environment and the nation as a whole.