The 2013 fire season is nearly over, and while it is too soon for a complete post-mortem, we know a few things about this year's fires. As of September 10, about 36,275 fires to date have burned just under 4 million acres (report is updated each day), which is well under the last decade's average of more than 57,000 fires and 6.4 million acres per year.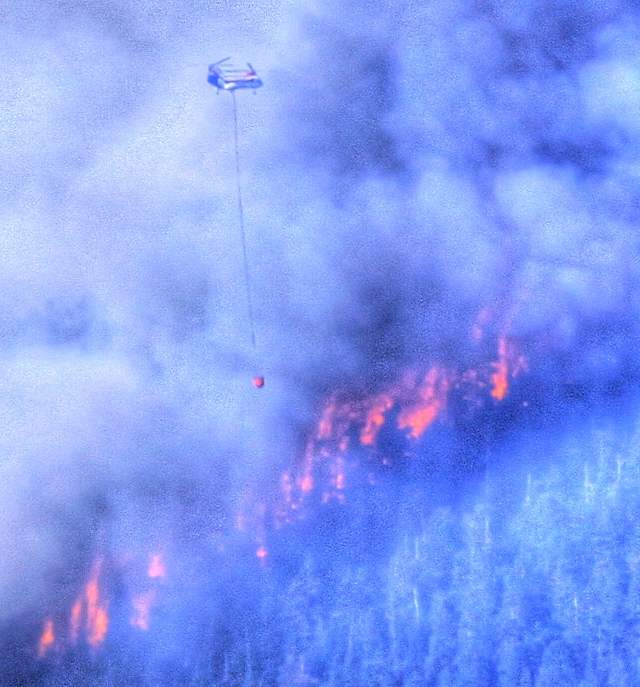 Dumping money on the fire.
A couple of weeks ago, the Forest Service said it had spent about $1 billion on fire suppression so far, and that it had to "borrow" $600 million from timber and other funds to keep up the hard work of pretending to put out fires. The Department of the Interior tends to spend about a quarter to a third as much as the Forest Service each year, so total federal spending this year probably came somewhere close to $1.5 billion.
On a per-acre basis, that's not particularly high compared with recent years: about $377 this year vs. $346 in 2010, $377 in 2008, and more than $400 in 2003 (all dollars adjusted for inflation). On a per-fire basis, this is very high: more than $40,000 compared with no more than $28,500 in any prior year and an average of $22,000 for the previous decade.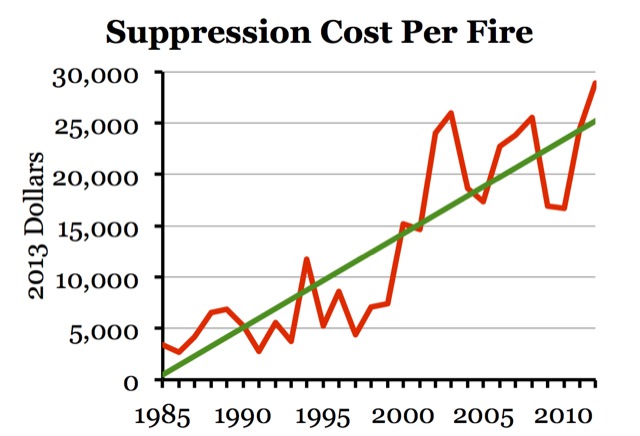 Click image for a larger view.
There is a popular belief that wildfire suppression costs and acres are rising and that it is probably because of either climate change or increasing fuel loads or both. At first glance, the above graph seems to support the notion of rising costs (the green line being an Excel-calculated trend line). But a closer look reveals two distinct periods: before 2000, when costs per fire averaged less than $5,700, and after 2000, when they averaged more than $21,100. In no year before 2000 did costs exceed $12,000 per fire; in no year after 2000 were they less than $14,000 per fire.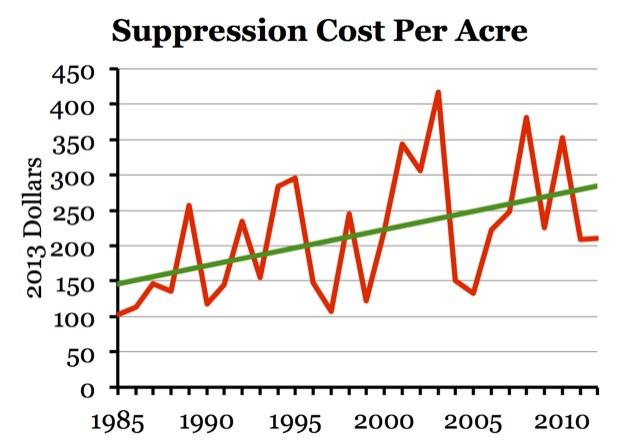 Click image for a larger view.
On a per-acre basis, the difference between pre- and post-2000 isn't as obvious, but it is still there. Before 2000, annual costs per fire averaged $169, while after 2000 they averaged $256. In no year before 2000 did costs ever reach $300 an acre; after 2000, it exceeded $300 five times (including 2013, which isn't in the graph because of the uncertainty of the data).
There still might be a slight upward trend before 2000 and another slight upward trend after 2000. But most of the "trends" shown on the above graphs appeared to have happened in 2000.
These charts only include federal fire suppression costs, not state or private costs. But that doesn't change the point that something happened in 2000 to dramatically increase federal spending on fire suppression.
The decade before 2000 might be considered the Forest Service's "lost decade." National forest timber sales had rapidly declined from well over 10 billion board feet per year to under 4 billion in 1994 and under 2 billion in 2000. Led by a wildlife biologist and then a fisheries biologist rather than a timber manager, the Forest Service was seeing its budgets fall and hearing threats from Congress to cut its budget even more if it didn't boost timber sales.
Then, in 2000, the Cerro Grande fire burned hundreds of homes in Los Alamos, New Mexico. Congress responded by giving the Forest Service and Department of the Interior a mandate to write a "national fire plan." This proved to be a godsend for the Forest Service: where previously the agency's budget centered around timber cutting, now it could center around fire suppression.
As the Antiplanner has stressed before, the Forest Service is the only agency in the history of the world to which a legislative body has handed a blank check in the form of a 1908 law allowing the agency to spend whatever it takes to suppress fires. Technically, this law was repealed in 1978, but Congressional panic about burning homes effectively restored it in 2000. If fire costs continue to rise in the next few years, it will be as much if not more because the Forest Service is taking advantage of this blank check than it is due to climate, fuels, or anything else happening in the forests.