High-speed rail fortunately appears to be dead in the United States, but it is still alive and kicking taxpayers in England. In the last decade, the country spent 11 billion pounds (about $18 billion) building high-speed rail about 67 miles from London to the Channel Tunnel, a project known as High Speed 1. Ridership was disappointing: the private company that operates it expected revenues would cover operating costs, but instead has required government subsidies of more than 100 million pounds per year.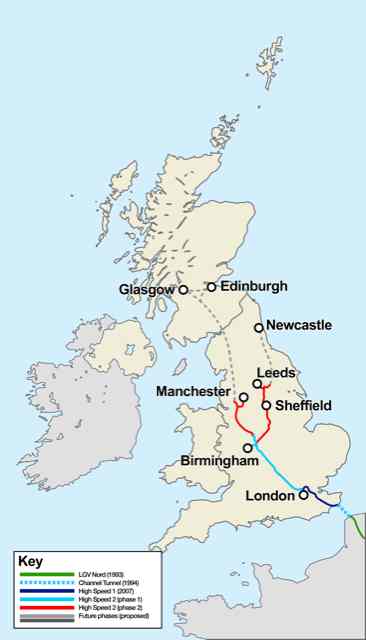 Click image for a larger view.
Despite this, politicians and rail contractors want to spend at least 43 billion pounds (more than $70 billion) on High Speed 2, from London north to Manchester and Leeds. Manchester is about 200 highway miles from London, and the rail line promises to cut a bit more than an hour off of people's highway journeys. However, the train will take about the same amount of time as flying, and by my count there are currently 13 flights a day between London and Manchester.
Of course, cost overruns are likely; the Chunnel line was originally supposed to cost 1 billion pounds. A report from the Institute of Economic Affairs, a U.K. think tank, suggests the final cost of High Speed 2 will be closer to 80 billion pounds ($130 billion). Even the official estimate is more than 1,000 pounds for every adult in the United Kingdom, most of whom will never ride it.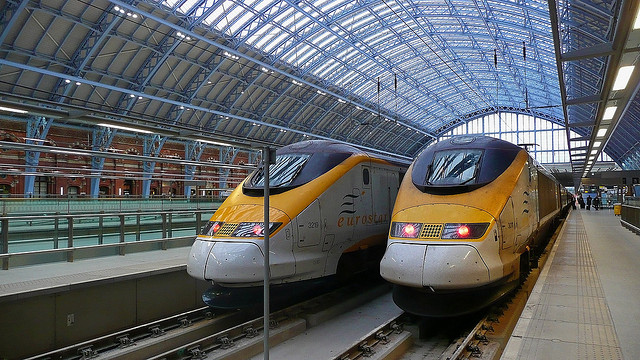 Eurostar trains in St. Pancras Station. Flickr photo by slice of life. Click image for a larger view.
Rail supporters claim that the Chunnel line was hampered by poor planning. Instead of serving the center of London or a major airport, the line ends in St. Pancras Station, well away from London's business district, a source of many potential customers. But the reality is that no single station can match the flexibility of auto travel, and since London has five commercial airports, most travelers live closer to an airport than to a train station. Adding more train stations doesn't help as frequent stops slow down the average speeds.
The truth is that most of the support for High Speed 2 comes from companies likely to profit from its construction and cities that hope to benefit over their suburbs by having stations on the route. As with most big government projects, if High Speed 2 is built, a few people will win, most will lose, and the total losses will vastly outweigh the gains.