One of the more ridiculous debates going on this month is the protests over Google and other companies providing commuter bus services for their employees in the San Francisco Bay Area. No one ever comments on how much better it is for the environment that people are taking buses to work instead of driving. No one ever comments on how the fact that at least 18,000 people take private buses to work is a devastating indicator of the failure of the region's expensive transit system.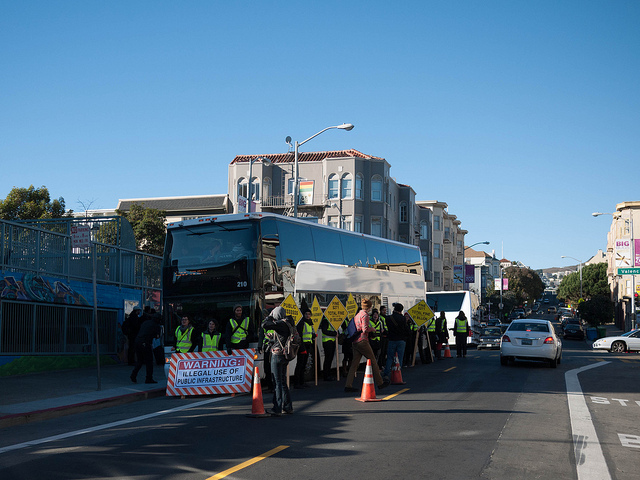 Protesters object to "illegal use of public infrastructure," referring to private buses stopping at public bus stops. But the real issue is revealed by the "Stop Displacement Now" sign. Click for a larger view. Flickr photo by C.J. Martin.
Instead, the debate is about gentrification. The protesters fear that high-paid Silicon Valley employees are driving up the cost of housing in San Francisco by buying homes currently being rented, evicting the renters, and moving in.
San Francisco has responded to the debate by charging shuttle buses a $1 fee per stop. This is expected to work out to well over $100,000 a year each for Google, Apple, and Facebook.
But that doesn't satisfy the protesters. They want "a moratorium on all no-fault evictions" plus "preservation of rent-controlled housing." If San Francisco were to adopt these policies, rental housing would eventually disappear completely as no one would ever build a new rental dwelling and existing landlords would convert dwellings to other uses as soon as existing renters moved or died.
The Antiplanner used to count himself a member of the tongue-in-cheek James G. Blaine Society, a group of native Oregonians who swore to tell everyone else not to move to Oregon because it rains all the time. (Reality: it is cloudy or rainy most of the time in the Willamette Valley, which occupies one-seventh of the state. Most of the rest of the state, even the coast, enjoys lots of sunshine.) But, seriously, I've never been able to figure out how some people can believe that they are entitled to live somewhere they don't own, to the exclusion of everyone else, simply because they got there first.
A San Francisco venture capitalist has compared the protesters to Nazis. That's a stretch. A much more accurate comparison would be to those who think we can solve America's problems by building a giant wall along our border and letting no one in. Keeping immigrants out, especially those willing to work, because of a fear they will somehow drive up prices or create shortages betrays a lack of understanding of basic economics.
Too many people see the economy as a zero-sum game. If one person gets rich, they think it must be at everyone else's expense. The report that the 85 wealthiest people in the world have assets equal to the 3.5 billion poorest people is supposed to trigger outrage that anyone should be that rich.
In fact, it should trigger outrage that 3.5 billion people are that poor. Most of those people are poor because they live in countries and regions that have governments that keep them from building wealth. Taking money from the wealthiest will not help the poor; it will just confirm that (as a friend of mine once wrote) government is the most efficient engine ever devised for the generation of plunder. When government gets out of the way, the economy becomes a positive-sum game: people get rich mainly by making others better off as well. Markets aren't perfect, but they are far better at generating and distributing wealth than government.
San Francisco is one of the most romantic cities in the world, easily the equal of Paris and Venice and ahead of just about everywhere else. When governments draw urban-growth boundaries around the City's suburbs, housing prices are bound to be high. To blame those prices on private shuttle buses is to completely miss the point. If you want to live in a desirable city that has (with your support) shut off development at the urban fringe, you are going to have to pay the price.