At nearly 10.7 billion trips, transit ridership in 2013 reached its highest level in 57 years, says the American Public Transportation Association. This increase shows that people are "saying we want these (transit) investments made," APTA's president, Michael Melaniphy, told USA Today. Needless to say, by "investments" he means building new rail transit lines.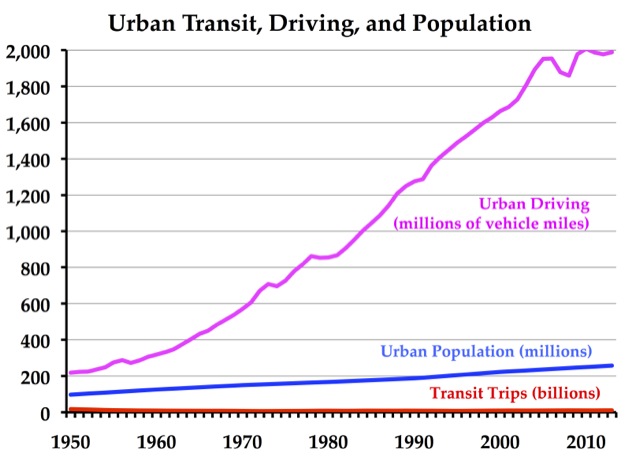 Any century now, transit is bound to overtake driving. Source: Transit data from APTA, urban driving from the Federal Highway Administration, and urban population from the Census Bureau. Click image for a larger view.
However, a close look at the data shows something entirely different. It turns out that New York City subways alone were responsible for more than 92 percent of the increase in transit ridership. Nationally, ridership grew by 115 million trips; New York City subway ridership grew by 106 million trips. According to the New York Times, the growth in subway ridership resulted from "falling unemployment."
Indeed, declining unemployment seems to be responsible for most of the increase in ridership in other cities as well. It certainly isn't due to investments in transit. In Denver, a new light-rail line boosted rail ridership by 3 million trips, but bus ridership fell by nearly a million trips. In Salt Lake City, light-rail ridership grew by 1.2 million trips, but bus ridership fell by 1.8 million trips. In San Diego, light-rail ridership grew by 3.2 million trips, but bus ridership fell by more than a million trips. Since a significant portion of the growth in rail ridership is offset by declining bus ridership, the Antiplanner wonders what would have happened if those cities had simply improved bus service, which would have cost very little.
Not counting New York City subways, transit ridership nationwide grew by a mere 0.1 percent. This is a small fraction of the nation's population growth of 0.7 percent or driving growth of 0.6 percent. Counting both subways and bus service, the share of nation's transit riders carried by the New York Metropolitan Transit Authority grew from 31.8 percent to 32.6 percent, yet New York City has just .32 percent of the nation's urban population.
In Portland, everybody's favorite transit city, both light-rail and bus ridership fell. Maybe its because too many members of the "creative class" that moved to Portland are too busy drinking in one of the Portland area's 75 microbrew pubs to bother to go to work. (Also, the subsidized construction of so much near-downtown housing has led to a huge number of downtown employees to switch from transit to walking or cycling to work.)
APTA loves to compare recent ridership numbers with 1995, when ridership bottomed out at 7.8 billion trips, the lowest number of the last 35 years. Cities had been "investing" in transit since the 1970s, yet spending on rail transit in those years didn't translate to ridership growth.
APTA's comparison with 1956, the last year more than 10.7 billion trips were taken on transit, is even more dismal. America's population has grown by 85 percent since then, so per capita transit trips declined from 64 to 34. Over the same time period, miles of driving grew by more than 1,100 percent.
In short, APTA's numbers are good news for the New York City subway system. For the rest of the country, they don't show that Americans want more investments in transit at all. Instead, they underscore transit's increasing obsolescence everywhere except for densely packed New York City.