Wired magazine freaks out because the Tennessee senate supposedly passed a "mind-boggling ban on bus-rapid transit." AutoblogGreen blames the legislation on the left's favorite whipping boys, the Koch brothers because it was supported by Americans for Prosperity, a tax-watchdog group that has received funding from the Kochs.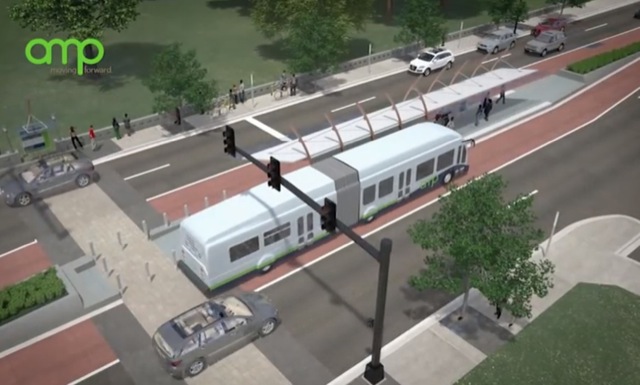 Not only would Nashville's bus-rapid transit consume up to three lanes of traffic and be given priority at traffic signals, the design of stations in the middle of a major arterial will create hazards for pedestrians.
In fact, the senate did not pass a bill to ban bus-rapid transit; it passed a bill to limit the dedication of existing lanes to buses. There is no reason why buses need their own dedicated lanes, at least in a mid-sized city such as Nashville. Kansas City has shown that bus-rapid transit in shared lanes can work perfectly well and attract as much as a 50 percent increase in riders.
The bias of the writers whose minds are boggled by the senate bill is clear from their stories. "Voters in Arlington, TX famously voted against public transit funding for decades, and an acrimonious debate in Cincinnati almost derailed a streetcar project," says Wired, "but both those cities now have service." In other words, it isn't real transit unless it costs of lot of money. An 8-mph streetcar that has just 30 seats and can't get out of its own way is real transit; 40-seat buses that are faster and more nimble apparently are not.
Wired also claims that, unless bus-rapid transit is built, "drivers in Nashville can look forward to increased traffic and longer commutes." In fact, the opposite is true. Dedicating space that could otherwise be available to autos to a few buses, and also giving those buses priority at all traffic signals, will make congestion a lot worse, not better.
Even Nashville's transit agency doesn't claim that its plan will reduce congestion; it only says it will allow "residents and visitors to move along the corridor faster than they can in a car stuck in traffic." Of course, part of the reason the car will be stuck in traffic is the city has given priority to those people who will ride the bus. In an urban area where only 1.6 percent of people take transit to work today, that won't be very many people.
Atlantic Cities abuses data to support Nashville's plan. "According to Census statistics, less than 2 percent of Middle Tennesseans take public transportation to work," says the writer. "By contrast, in Portland, Oregon, a city roughly the same size as Nashville, an estimated 12 percent of residents use public transit for work commutes." Notice that the writer compares the city of Portland with the Nashville metropolitan area. Only 6 percent of commuters in the Portland metropolitan area take transit to work; that's still more than Nashville, but less than it was in the Portland area before Portland began building expensive transit systems.
The Tennessee senate may not even be particularly aware of the effects on traffic. The real issue is that Nashville's plan will cost $174 million. Why spend all that money on a project that will benefit a relative handful of bus riders while it makes travel worse for everyone else? It would be better to spend it on things that will improve everyone's travel, whether they go by car, bicycle, foot, or transit.