Here's a little-known fact: Denver light-rail trains are the emptiest in the nation. Denver light-rail cars seat 70 and have room for at least that many standing, yet they carried an average of less than 14 people in revenue service in 2007. In the rest of the nation, the average was 24.
If only RTD, Denver's transit agency, had managed to find some 14-passenger buses (which retail for about $50,000 each). It could have saved taxpayers the $1.2 billion or so that it spent building light rail.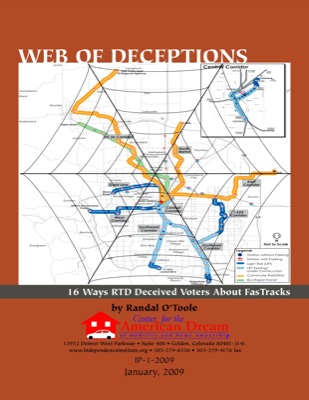 This fact is among many revealed in a new report published by the Independence Institute of Golden, Colorado, which has long been critical of RTD's dreams of rail empire. The report shows that RTD has repeatedly and continually lied to voters about the high costs and minimal benefits from building more rail lines in Denver.
People who think Denver light-rail trains are full, or that they carry as many people as four freeway lanes, or that they are environmentally friendly need to listen less to RTD propaganda and take a closer look at the actual performance of light rail. This report is a good place to start. Here are just a few of the facts exposed by the report.
1. RTD spent 28 percent more than its original cost estimate on the Southwest light-rail line and 59 percent more on the Southeast line. Yet RTD frequently insists it has always built its transit projects on budget.
2. Denver's light-rail lines use as much energy and generate more greenhouse gases per passenger mile than the average SUV. Yet RTD maintains that light rail is good for the environment.
3. Denver-area traffic grows more every five months than all the cars FasTracks is projected to take off the road. Yet RTD claims FasTracks will significantly reduce congestion.
4. U.S. light-rail lines built with public-private partnerships went an average of 60 percent over budget. Yet RTD insists that public-private partnerships can save 30 percent on construction costs.
5. By failing to negotiate agreements with BNSF and Union Pacific prior to the 2004 election, RTD's poor planning added more than $300 million to the projected cost of FasTracks. Yet RTD blames all of the cost increase since 2004 on unforeseeable increases in materials costs.
Transit agencies like RTD are supposed to provide an efficient transportation alternative for people who cannot or would rather not drive. Instead, RTD tells lies in order to promote a wasteful, high-cost transit system that mainly benefits the contractors who build it, not the people who might ride it and certainly not most of the people who will have to pay for it.