To great fanfare, the DC Silver Line opened from Tysons Center to East Falls Church, Virginia. Although the news reports mentioned the cost–nearly $47,000 per foot or more than $3,900 per inch–a lot of other things were left unsaid.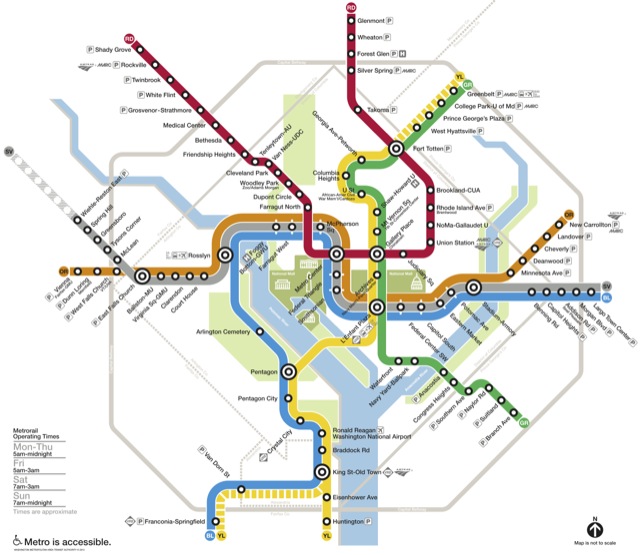 The Silver Line will displace trains on the Orange and Blue lines, which are already being used at capacity. Click for a larger view.
Facts such as:
The transit agency that will operate it, WMATA, wanted an affordable bus-rapid transit line;
The cost doubled after the decision was made to build it;
Silver Line trains will displace Orange and Blue line trains that are now running full;
WMATA can't afford to maintain the system it has, much less one that is even bigger;
Perhaps most disturbing, as transportation writer Jim Bacon notes, the Silver Line represents a "massive wealth-redistribution scheme" from users of the Dulles Toll Way (whose jacked up tolls are paying most of the cost) to Tysons property owners (who get to build higher density developments because of the new transportation). The only way to build rail transit is to leach off of other people, which is not a good way to run a society. (Before someone says it, a lot of roads have been built and maintained solely out of tolls.)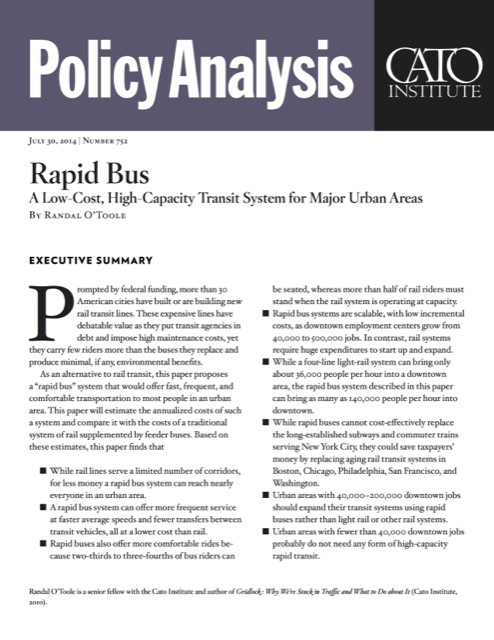 Click image to read a summary of the report or click here to download the report itself.
By coincidence, tomorrow the Cato Institute will publish a new paper showing that rapid buses are better solution than rail in just about any urban area in America other than New York City. Antiplanner readers can read a summary by clicking on the image above or download a preview of the report itself.
The report shows that a rapid-bus system that uses two lanes each of eight downtown one-way streets (four one-way couplets) can move more than 140,000 people per hour into the downtown area. Other than New York, only two American urban areas, Chicago and San Francisco, have more people commuting into downtown by transit every day. At 151,000, San Francisco's is only slightly more, and since not all rush-hour commuters commute in the same hour, downtown San Francisco could easily be accommodated by rapid buses. Rapid buses would work in Chicago by dedicating two lanes of around a dozen downtown streets to rapid buses.
Light rail makes no sense at all because it can't move nearly as many people into a downtown area. At about 9,000 people per hour per light-rail line, a four-line system could only bring 36,000 people per hour into downtown. Sixteen light-rail lines would be needed to move as many people into downtown as the 56 rapid-bus lines contemplated in my analysis, and those sixteen rail lines would not only bankrupt any city that tried to build them, they would provide slower, less convenient, and less comfortable service than the buses.
The report concludes that cities that don't have rail should stick to buses. Cities with fewer than 40,000 downtown jobs (such as St. Petersburg, which has just 30,000) don't even really need a rapid bus system. Cities that already have rail, except for New York and possibly Chicago, should plan to substitute rapid buses as the rail lines wear out.
This is what private operators did before the government took over transit–and in fact what most government agencies running transit did until Congress started handing out subsidies to new train construction. The arguments for rail today are just plain silly ("If you build rail you'll get economic development–if you subsidize the economic development") and are really aimed at making a few property owners and rail contractors rich at everyone else's expense.