Years ago, the Antiplanner met some students from the Maxwell School of Public Administration. I asked them what they learned at the school.
"We learned about the Golden Triangle," they said. That sounded suspiciously like the Iron Triangle, a concept used by public-choice economists to describe the natural alliance between elected officials, bureaucrats, and special interest groups: the elected officials fund bureaucracies, who pass money and resources to the special interest groups, who donate money to the elected officials' political campaigns.
According to the students, the Golden Triangle "is bureaucrats, elected officials, and special interest groups — with bureaucrats at the apex of the triangle, running things." Does the Maxwell School think this is a good thing? "It's an ideal to be achieved, but we haven't gotten there yet," they said.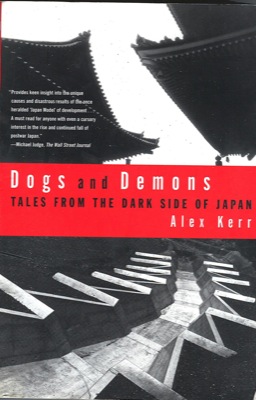 One place that has reached this "ideal" is Japan, at least according to Alex Kerr, author of Dogs and Demons: Tales from the Dark Side of Japan. Though not a recent book (copyright 2001), Dogs and Demons provides an uncomfortable look at our possible future.
Back in the Rising Sun era, when Japan was considered a serious economic rival to the U.S., many American writers had nothing but praise for the Japanese bureaucracy. "Their objective is to achieve the greatest happiness of the greatest number of people," said one writer (quoted by Kerr on p. 140). Another wrote that Japan's top bureaucrats are "brilliant, creative, tenacious, public spirited" and "living proof that top officials can be 'rightly oriented in their own minds and hearts.'"
Kerr paints a very different picture. Japan's children attend strict and harsh schools where all independence and creativity is literally beaten out of them. An elite few go on to Tokyo University, which by American standards is a backwards place with negligible research programs, but which graduates most of the people who go on to staff the nation's top bureaucracies.
The bureaucracies have more power than those in any other country. Although Japan has serious problems, the bureaucrat's answer to just about any question is to build a monument. "In field after field, the bureaucracy dreams up lavish monuments rather than attend to long-term underlying problems" (p. 146). These monuments include dams, stadiums, concert halls, museums, roads, and, yes, high-speed rail.
"Railroad building is an example of a policy that grew far beyond its original aims and become one of officialdom's unstoppable tanks," says Kerr. "A high priority in the postwar years, railways took on a life of their own as the ultimate pork barrel beloved of politicians, with the result that gigantic new lines continue to expand across the nation regardless of economic need or environmental impact" (p. 150).
What most bothers Kerr (who lives in Japan) is that all this construction has devastated Japan's environment. Although various land-use policies confine most people to cities, you can hardly go anywhere in the countryside where your views are not obstructed by some giant concrete monument of some sort or another.
But an even more serious problem is the economic effects. Japan is famous as a nation of savers, and most people save their money in Postal Service savings accounts. The bureaucracy finances its endless construction programs by borrowing from these accounts, which it can do off budget and virtually unregulated by the elected parliament (Diet). Contracts are supposed to be bid out, but the bureaucrats rig the process to limit the number of bidders. This makes a few contractors rich.
At an appropriate time in their careers, bureaucrats "descend from heaven" by retiring from the public sector and taking a job with banks, construction companies, or other companies dependent on the bureaucracies' largess. In a few years, the former bureaucrats can earn $2 million or more in their new positions. As a result, the Golden Triangle becomes a Golden Line, with elected officials almost completely cut out of the process.
Meanwhile, the nation and all its various bureaucracies are deeply in debt. So are many companies, which have billions of dollars of unfunded pension liabilities. As noted here before, the Japanese National Railways racked up a debt of well over $200 billion before being privatized in 1987, with the government taking over the debt.
The Japanese system seemed to work in the 1960s through the 1980s. But it was all based on a big bubble, both in land and stock prices (which depended on one another). As soon as the land price bubble burst, the stock price bubble followed. Deflation was slow, and today — some two decades later — Japan is still suffering the consequences.
There are many differences between Japan and the U.S., but there are also some parallels. Just as Japan borrowed from postal savings accounts to finance ridiculous construction projects, Congress borrowed from the social security "trust fund" to finance its pork barrel programs.
Just as the bursting of Japan's inflated property bubble led to its 1990 financial crisis, the bursting of U.S. housing bubbles in 2006 led to our 2008 financial crisis. Just as Japan tried to spend its way out its bubble collapse, so the Obama administration is trying to spend its way out of the current credit crisis. Just as most Japanese programs benefit a wealthy elite while everyone else lives with the bureaucracy's policy of "poor people, strong state," so many of Obama's programs benefit bankers and other elites at the expense of ordinary taxpayers.
The most important lesson from Japan, however, is that we must not trust that bureaucrats and planners always — or ever — have our best interests at heart. American bureaucrats may not all "descend from heaven" (though when you look at the revolving door between Goldman Sachs and the U.S. Treasury, you have to wonder), but they still face incentives that rarely promote policies that are truly in the public interest.