Feudalism–an economic system in which all land is owned by the monarch and everyone else must pay rent to use that land–supposedly ended hundreds of years ago. But a map of the world showing the current status of property suggests that it is alive and well over most of the planet. Moreover, a new form of feudalism that nominally allows people to own land but severely limits what they can do with that land dominates much of the rest of the world.
For years, various surveys of economic freedom have attempted to portray the amount of liberty people enjoy in different countries. However, none of these surveys have explicitly included property rights as one of the measures of freedom, probably because there is no easy index for such rights.
That was supposed to be remedied by the new International Property Rights Index. This judges a nation's respect for property rights using ten criteria. However, only one of these has to do with ownership of real estate, and none of them consider how regulated such owners might be. As a result, it gives high ratings to countries in which property rights are actually severely limited.
For example, it rates the United Kingdom higher than the United States, when in fact landowners throughout the U.K. are severely restricted by government controls, whereas landowners in most American states are not. Thus, it isn't really satisfactory.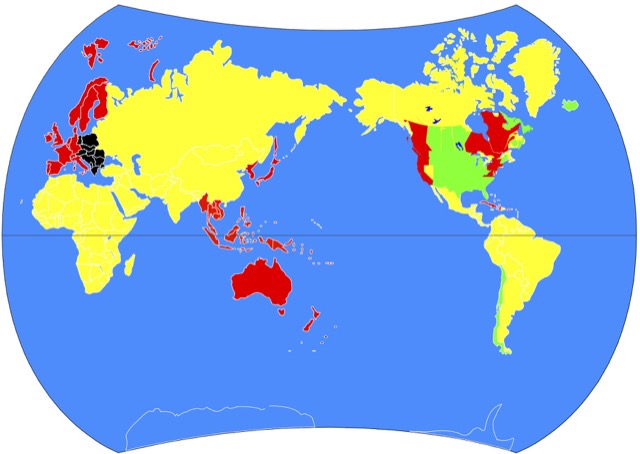 Click image for a larger view.
As a substitute, the Antiplanner made a map of the world that puts nations (or, in the case of Canada and the United States, portions of nations) in one of four categories:
Yellow represents the Old Feudalism in which the government owns all or nearly all of the land, making it difficult for private parties to own property;
Red is the New Feudalism in which most land is private, but the government heavily restricts its use;
Green means most land is private and there are minimal government restrictions on use;
Finally, black is unknown and mainly refers to ex-communist countries in eastern Europe where land status may still be changing.
The map shows that the vast majority of the world is still feudalistic, including most of Africa and Asia as well as Alaska, Nevada, and northern territories of Canada. I also put most of South America in this category, but I might be wrong about a few countries.
At the other extreme, the only parts of the world that truly respect property rights are interior U.S. states, Canadian provinces other than British Columbia, Ontario, and Quebec; Chile; and Iceland. Australia, most of Europe, Japan, and New Zealand fall in the New Feudalism category, as do U.S. states on the West Coast and in the Northeast plus British Columbia, Ontario, and Quebec. The map also shows Indonesia and Southeast Asian nations in that category, but some of these might still be under the Old Feudalism.
Having completed an overly rapid tour of Southeastern Europe, I suspect a few countries in Eastern Europe could be colored green, but most should be colored red. It will take more detailed research to determine which should be which. I invite readers to correct any errors on the map or help determine the right colors for countries in eastern Europe.