Americans visiting Europe often come away feeling that Europe made some very different choices regarding transportation, with a wistful notion that life would be better in the United States if we followed their example. The reality is a lot grimmer, at least for Europeans.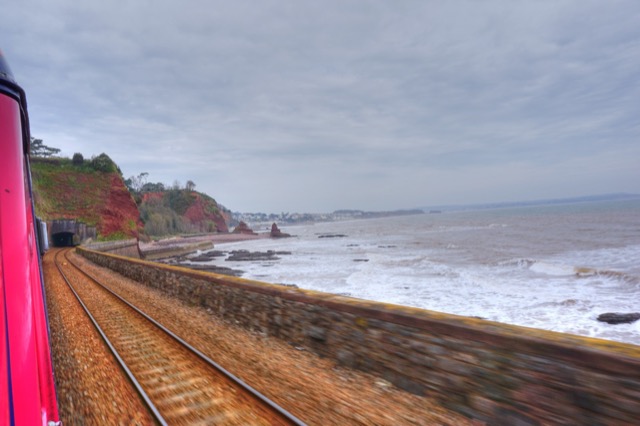 The view from an English train in Cornwall.
The big thing people notice is all the passenger trains. Why did Europe decide to keep its passenger trains while American decided to drive instead? Before answering this question, it is worth taking a hard look at the data to see what really has happened. The Antiplanner's data today mostly comes from the European Union itself: the Panorama of Transport 2000 has data from 1970 through 2000; Panorama of Transport 2009 has 2007 data but is mainly useful because it compares Europe with the US and Japan; and EU Transport Statistical Pocketbook has 2010 data plus population data for 1990 through 2010. I found 1970 and 1980 European population data on Geohive.
Most of my comparisons will be with the EU-15, that is, the fifteen members of the European Union as of 2000. Data for the other members of the current EU-27 aren't available for before 1990, and the EU-15 mostly consists of countries whose wealth is about the same as the United States, while more recent additions to the EU are well behind.
The first thing to note is that, from 1970 to 2010, all forms of travel grew in the EU-15, but auto and air travel grew the most. Air's share of total travel grew from 1.5 percent to 8.0 percent, while auto's share grew only from 73.9 to 74.7 percent. Bus, urban rail, and intercity rail all lost market shares.
According to the U.S. Department of Transportation's National Transportation Statistics, as of 2010, highways had an 87.6 percent share of passenger travel while air was 11.6 percent with everything else adding up to about 1 percent. So while the auto's market share is higher in the U.S. than in Europe, the automobile still dominates European passenger travel and has done so at least since 1970.
The picture for freight is different. According to Panorama 2009 , 46 percent of EU-27 freight goes by highway while only 10 percent goes by rail, while in the U.S. 43 percent goes by rail and only 30 percent by road. (In both cases, nearly all of the rest is waterways and pipelines.)
So, it isn't so much that Europe decided to move people by train rather than by automobile. It is more that Europe decided to use its railroads to move people while the United States decided to use them for freight. America moves almost six times as many ton-miles (or tonne-kilometers) of freight by rail as Europe, while both move about the same number of tonne-kilometers by road. While Europe moves about twice as many tkm of freight by waterway as the U.S., we move six times as much oil by pipeline.
Why did Europe decided to dedicate its railroads mainly to passengers while we dedicated them almost exclusively to freight? I think the answer is ownership: during the 20th century when these decisions were being made, most European railroads were government-owned, while American railroads were private.
Government ownership means political control, and politicians try to be popular by having a visible effect on people's lives. Passenger trains are a lot more visible to people than freight, so they were emphasized by European politicians. In contrast, America's private railroads wanted to be profitable, and it is a lot more profitable to move large quantities of coal, grain, oil, and containers from one point to another than to deal with finicky passengers who start from millions of different origins and want to go to millions of different destinations.
Most European countries didn't nationalize their railroads for ideological reasons. Instead, they often did it because they feared the railroads would be controlled by another, wealthier country. The Netherlands nationalized their railroads because they feared German control; the Belgians nationalized theirs because they feared Dutch control; the Italians nationalized theirs because they feared Austrian control; and so forth. Britain is a major exception to this rule, as it nationalized its railroads in 1947 when the Labour Party took control of the government (and semi-privatized them in the 1990s when the Conservative Party was in control).
Once governments starting building railroads for whatever reason, they often ended up taking over all private railroads out of a sense of equity, that every part of the country deserved government-subsidized service. In most cases this was followed by overly generous labour agreements and continuation of service to unproductive but politically powerful regions that forced most rail lines deep into the red.
The Antiplanner thinks the American way is better for three reasons. From an environmental viewpoint, it makes more sense to use railroads for freight than for passengers. A 50-ton freight car can hold 100 tons of freight, so the energy cost of moving the dead weight is low. But a 50-ton passenger car normally holds less than 10 tons of passengers, so the energy cost of moving all the dead weight is high.
Second are the financial benefits: American freight railroads require almost no subsidies, while local American roads and streets are partly subsidized but state and interstate highways are nearly all paid for with user fees. In contrast, urban and intercity passenger trains in both the United States and most of Europe require subsidies to cover half or more of their costs. Private or use-fee-funded transportation imposes a discipline that prevents costs from getting too high.
The biggest advantage of the American way is mobility. The average American travels twice as many miles/kilometers per year as the average European. Per capita shipments of freight in the U.S. are also nearly twice those of Europe. Europe's high taxes on fuel depress total travel while its subsidies to rail don't come close to making up the difference.
European trains are great for visitors. But personally, I would rather have twice the mobility than more subsidized passenger trains.