Someone sent me this photo album of skinny houses around the world. Many of them are are more creative and interesting to look at than the typical Portland skinny house.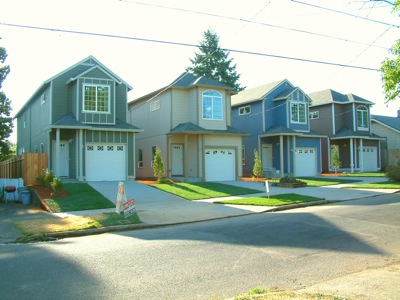 The hypothesis behind skinny houses is that increased densities will allow people to be closer to transit, shops, and jobs, and therefore they will walk, cycle, and ride transit more and drive less. I say "hypothesis" because there is little evidence this is true, or at least that it has more than a tiny effect on travel habits.
In any case, Portland held a design competition for skinny houses, yet nearly all the ones I've seen in Portland look alike. The basic model is shown above: tear down a house on a 100×100 lot and build four 15-foot-wide skinny houses on 25-foot-wide lots. The cosmetic detail of the front faces are slightly different, but otherwise the houses are virtually identical: 1,500 square feet, 2-bedroom homes on 1/16th-acre lots.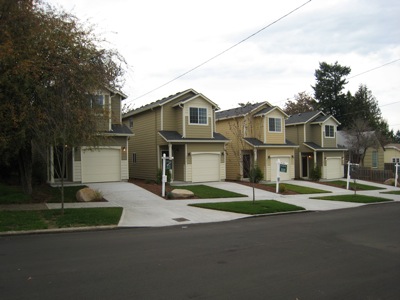 Here are four more just a few blocks from the ones in the previous picture. I took this photo in October, 2007; sale flyers said the houses had been reduced in price from $260,000 to $250,000. I don't know if these are still on the market, but builders are asking about $210,000 to $220,000 for similar ones today. (For comparison, a 2,200-square-foot, 4-bedroom home on a quarter-acre lot still goes for around $160,000 in the Houston area.)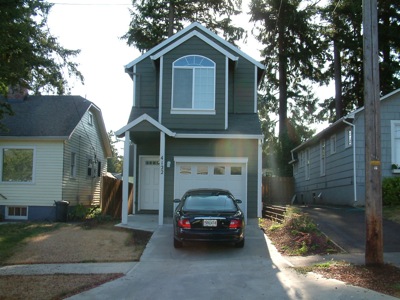 Here's one that's a little different: built between two houses that were spaced "too far apart." Perhaps both houses were owned by the same person, or perhaps one of them just had a very wide lot. In any case, there are now three houses where there were once just two. Neither this house nor the ones in the first photo are particularly close to any transit line or stores, so it is very unlikely that they changed anyone's travel habits.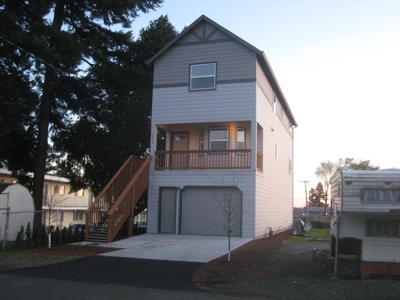 This one looks the above houses with the addition of a third story. The previous houses are about 1,500 square feet, so (considering garages aren't counted in square footage) this one is probably around 2,500.
Portland Mayor Sam Adams complains that the city has too much "cheap, ugly housing." Do you suppose this is the kind of thing he meant? If so, perhaps he likes the following complex instead.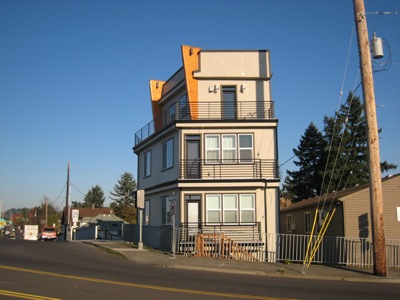 This one is really different. It is across the street from a light-rail station, and also across from Center Commons, a heavily subsidized high-density housing project. (It was supposed to be a mixed-use project, but lacking adequate parking the storefronts remain vacant.)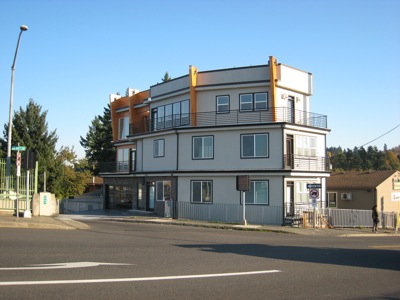 Anyway, this one seems to be a duplex. In addition to the garage in this photo (which exits onto a street that is mainly used as a freeway on-ramp), there is another garage on the other side which is one story below this street level. I don't know how much living area is on the lower level. I am not sure, but I suspect this one at least got 10 years of property taxes waived.
I am sure there are some other pretty ones around, but I haven't personally seen them. The following photo is from a real estate listing.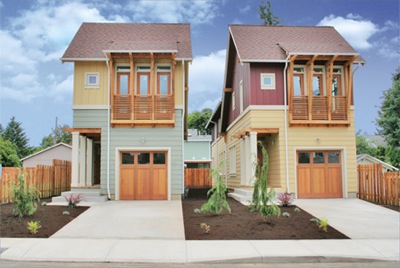 These two homes have different facades but otherwise have the same basic layout as the ones above. However, they have some fancier features, including energy-efficient windows and insulation leading to a "reduced carbon footprint." They call these features "living smart" (they sure love that word!), but they also add $100,000 to the price. Which brings up the question: Is it smart to pay an extra $50,000 to $100,000 to save $25 bucks a month on your heating bill? (Hint: the answer is "no.")
The real problem with all these houses is more fundamental. Would anyone really want to live in houses like these if planners hadn't distorted the housing market by driving up land prices? Maybe a few. But if Portland housing were priced like Houston's, I bet very few skinny houses would be built.