This is a bit premature, but booksellers such as Amazon and reviewers such as the Globe and Mail have already let the cat out of the bag. So I might as well announce the forthcoming publication of a new book: Gridlock: Why We're Stuck in Traffic and What to Do About It. This book is to transportation planning what The Best-Laid Plans is to government planning in general.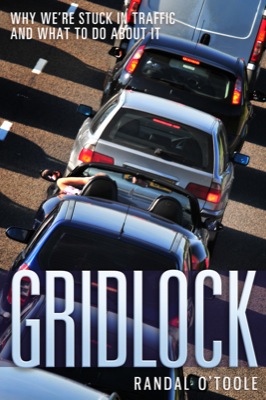 Regular readers of the Antiplanner will be familiar with some of the arguments in the book: Mobility is valuable, and the personal mobility provided by the automobile is not only convenient and inexpensive, it is available to nearly every family in developed countries. Mass forms of transportation such as intercity trains and urban transit cannot substitute for the automobile, so efforts to restrict automobility can cause grave harm to society.
While the book opposes government efforts to reduce driving, it also opposes government subsidies to any form of transportation. Users should be able to choose whatever transportation they like as long as they pay their way. If we feel we must subsidize some people because of low incomes or because they cannot drive, give the subsidies to them in the form of transportation vouchers, not to various transportation bureaucracies that are likely to frivolously spend them on empire building and placating special interest groups. While the book nominally supports privatization, it insists that any government involvement in transportation must focus on efficiency rather than politics.
Gridlock also makes a new argument that has only previously been hinted at by the Antiplanner. New passenger rail construction rarely makes economic sense, but new highway construction is politically difficult. Instead of simply rehashing the roads vs. rail debate, the book proposes a third option: to provide congestion relief and greater mobility by increasing the capacities of our existing road networks. How do we do that? Primarily, the book suggests, by aggressively promoting driverless car technologies.
Because computer response times are much faster than those of a human, cars controlled by on-board computers can operate much more closely to one another than human-controlled cars. This means that highway lanes that can now move only about 2,000 vehicles per hour will be able to move 6,000 to 8,000 vehicles per hour.
Unlike the infamous flying cars, driverless car technologies are not pie in the sky. Driverless highways were successfully demonstrated a dozen years ago (scroll down and click on "Eight-Car Automated Platoon"), after which the program was unceremoniously cancelled by the Deputy Secretary of Transportation, who argued that "American's will never want to take their hands off the steering wheels." Ironically, he previously headed the nation's largest transit agency, which means he had spent most of his career trying to get Americans out from behind their steering wheels. Someone more prone to conspiracy theories than the Antiplanner might suspect that he was trying to prevent the automobile from becoming an even stronger competitor to transit.
In the absence of government-backed research, the car companies have been developing technologies that, when combined, are likely to lead to driverless cars. These include adaptive cruise control, lane keeping, and collision avoidance. A Toyota Prius with these technologies costs about $10,000 more than the base model, but much of this is due to other options in that top-of-the-line model. I estimate that these technologies can be added to modern cars with electronic braking and steering for well under $1,000.
Other technologies in the works include vehicle-to-vehicle and vehicle-to-roadside communications. When combined with adaptive cruise control and self-steering technologies, these will eventually allow cars to be completely driverless on any road or street. But we don't have to wait for that: we can significantly relieve congestion by allowing driverless cars on limited access highways now.
The main obstacles to driverless cars are institutional. Although an increasing number of vehicles on the road can accelerate, brake, and steer themselves, the laws of every state require that cars be under the control of one of their human occupants. As a result, the implementation of these new technologies is often half-hearted. Self-steering cars, for example, sound an alarm if the drivers take their hands of the steering wheel for more than a few seconds.
To accelerate the use of driverless technologies, Gridlock urges state departments of transportation to work with automakers in developing and implementing standards for driverless cars, the same way computer companies develop standards for such things as USB, Firewire, and other communication systems. Then state legislatures will need to update laws to allow for computer control of cars, either on roads specifically designated for driverless vehicles or, if the car has sufficiently advanced software, on all roads and streets.
No doubt some will see the irony that an anti-government activist such as the Antiplanner is advocating government promotion of this technology. Gridlock suggests that, if roads were private, we would already have driverless cars because road owners would have an incentive to introduce new technologies to attract more customers. But I suspect it will be easier and faster to convince governments to implement driverless roads than to privatize them, and making roads safer and less congested is arguably a higher priority than putting them in private ownership.
Honesty compels me to admit that at least one advance review copy (sans index) is available for sale by an on-line bookseller. Everyone else will have to wait until the book is officially released by the Cato Institute in January.
On January 20, the Institute will hold a forum in Washington, DC, in which smart-growth advocate Michael Replogle has agreed to critique the book. On January 22, I'll speak about the book at Powell's Bookstore in downtown Portland. After that, I expect to go on a tour of other cities promoting the book and the ideas it presents. I hope to see many of you then.