A new study published by the Cascade Policy Institute provides more evidence that the automobile is a key part of the nation's economy. Though some may scoff that libertarian Cascade Policy is merely a part of some "right-wing conspiracy," the study's author, Randall Pozdena, is one Oregon's most respected economists.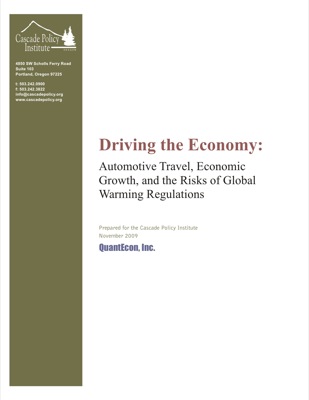 People in wealthy economies drive more; people who drive more live in wealthier economies. "What causes what?" asks Pozdena; do wealthier people drive more or does more driving make people wealthier? Based on his own research and a review of the literature, the answer, he finds, is "bidirectional causality"; that is, "VMT and the economy 'cause' each other."
Because of this, he concludes dryly, "policy interventions that reduce VMT will have an effect on the economy." In particular, he means, reducing VMT will have a negative effect on the economy.
Pozdena goes on to discuss the implications of this relationship for such things as induced travel (if building roads leads to more VMT, then it also leads to more wealth); compact development (there is no evidence to support the idea that density reduces VMT, but if there were it would also mean that density reduces wealth); and VMT road pricing (any charge beyond that needed to pay for the roads threatens the economy).
Meanwhile, despite growing budgets, mass transit continues to demonstrate its irrelevance. The San Francisco-Oakland Bay Bridge closed this week, so everybody expected the BART line between the two cities would be jammed. Instead, reports the San Francisco Examiner, "crowding was not excessive." Less than 30 percent of Bay Bridge commuters turned to transit, while the "vast bulk of commuters chose to drive" on alternate routes, leading to significant congestion on the San Mateo and Golden Gate bridges.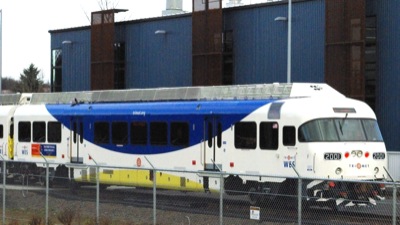 TriMet's unreliable commuter railcars.
Photo by M.O. Stevens
Meanwhile, Portland's TriMet transit agency provided some laughs for transit researchers when its $166 million suburb-to-suburb commuter train broke down, thus forcing a few dozen commuters to sully themselves by riding buses. (Each of the 16 trains per day carry an average of only about 70 riders.)
Not to worry: TriMet has purchased some used Diesel-powered Budd railcars that date back to 1953 to act as back-ups in the highly likely event of future breakdowns.
TriMet claims the Colorado-built railcars it purchased for this commuter line "were modeled after the 1953″ cars. Yes, they were — in the same way that a 2008 Lexus is "modeled after" a 1953 Chevrolet: both autos are powered by gasoline engines just as both railcars are powered by Diesel engines. Otherwise, the similarities are negligible.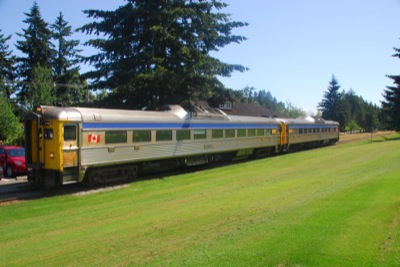 These 56-year-old Budd railcars are still in service between Victoria and Courtenay, British Columbia.
Actually, the Lexus-Chevrolet metaphor is inapt, as TriMet would have been far better off buying a fleet of 50- to 60-year-old Budd cars instead of the breakdown-prone cars they got. Budd's stainless steel cars are noted for lasting next-to-forever, and dozens are available for sale. Of course, if TriMet's goal was to provide decent transportation and not just spend a lot of money, it would simply use buses.
Even as it loses hundreds of thousands of dollars a month on this Toonerville trolley, TriMet is cutting bus service — again. "The purposeful degradation of downtown-centered bus service in favor of goofball streetcars and trains to nowhere marks a real decline in mass transit in Portland," comments Portland blogger Bojack. "How the people responsible for this — people like [Representative] Earl the Pearl [Blumenauer] and [TriMet General Manager] Crocodile Fred Hansen — pass themselves off as champions of transit is beyond me. Champions of pork and condos is what they are."