"Norfolk leaders want an audit to figure out why its light rail project has gone $108 million over budget," reports the Associated Press. The city doesn't need to spend money on an audit. The reason for the overrun is obvious: It's a rail-transit construction project.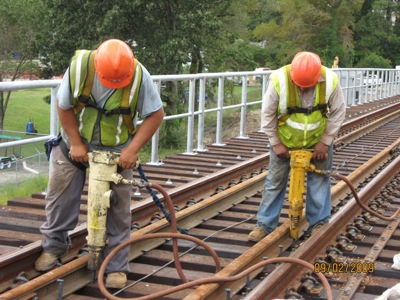 As if that isn't enough, the line was planned by Parsons Brinckerhoff (PB), the company that planned most of the rail transit lines that have gone over budget in the past 50 years. PB also planned and helped build the Big Dig, another urban-planning project that went way over budget.
San Francisco BART, the nation's first modern rail transit project, went 50 percent over budget. Since then, some have gone more, some less, but the average has pretty consistently been about 40 percent. The Norfolk project is 46.5 percent over budget.
Why does this happen? In a 1987 paper, UCLA (now UC Berkeley) planning Professor Martin Wachs concluded, "travel and cost forecasting is deliberately slanted to produce figures which constitute technical justification for public works programs favored on the basis of political rather than economic or technical criteria."
"I have interviewed public officials, consultants, and planners who have been involved in these transit planning cases, and I am absolutely convinced that the cost overruns and patronage overestimates were not the result of technical errors, honest mistakes, or inadequate methods," Wachs href="http://www.honolulutraffic.com/Wachs_2.pdf">added in a 1990 paper. "In case after case, planners, engineers, and economists have told me that they have had to 'revise' their forecasts many times because they failed to satisfy their superiors."
More than a decade later, Danish planner Bent Flyvberg found that rail transit plans still routinely underestimated costs (and overestimated demand). While he found that rail projects tended to go 40 percent over budget, American road projects went only 8 percent overbudget and planners actually underestimated demand.
Of course, instead of applauding highway engineers for building infrastructure that people want to use, planners castigate them for "inducing demand," one of the most insane yet strangely persistent ideas ever developed. Any private company would love to find an infrastructure investment that could induce its own demand. But, as even planner Robert Cervero admits, such a thing is pretty much impossible.
Planning advocates respond respond to charges that they cook their books by saying, "It's not our fault; the politicians made us do it." But government planning is, by definition, political. If planners don't or can't take the political factor into account, they are merely allowing themselves to be tools for pork barreling elected officials and subsidy-seeking corporations.
Flyvbjerg argues that planners should use reference-class forecasting, which basically means increasing cost projections by the historic average of cost overruns for similar projects. if Norfolk had added 40 percent to its cost projection, it would only be 5 percent over budget now.
The problem with reference-class forecasting is that the politicians who made the final decisions are innumerate. "This project will cost a trillion dollars and go 40 percent over budget. But it will get two cars off the road." "Let's do it! We have to get every car off the road that we can." Instead, we need to give up on the idea of government planning and rely on markets and user fees to build and operate our transportation systems.