A new report from the Center for Neighborhood Technology claims that living in smart-growth regions isn't as unaffordable as some (such as the Antiplanner) claim because high housing costs are offset by lower transportation costs. However, the data behind the claims leave something to be desired. Specifically, what would be desired are data.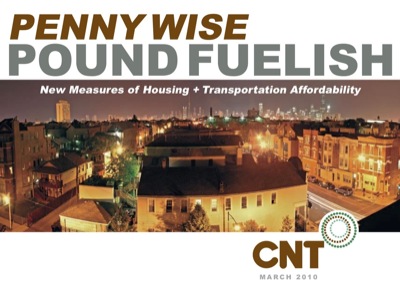 Instead of gathering data to back up its claims, the report (and several predecessors) is based on a model of household expenditures. The model assumes that people who live in denser neighborhoods drive less and ride transit more. The model assumes that transit is a perfect substitute for driving. The model assumes that those who drive pay the average costs of driving and those who ride transit pay only transit fares. (No one in the model has to pay for the huge transit subsidies.)
All of these assumptions are flat-out wrong. The assumed relationship between density and driving is nowhere near as strong as the model assumes. Instead, the model relies on studies that fail to account for self-selection — that is, for the fact that people who live in dense areas don't drive as much anyway. This doesn't mean that we can put a family of four in Portland's Pearl District (which has only a handful of children) and they will give up one of their cars.
Transit is far from an adequate substitute for driving. Some people can rely on transit because they choose to live and work (or go to school) in areas served by transit. But only a small percentage of jobs in American urban areas is adequately served by transit, so most people can't make those choices. Nor are most people willing to make the housing sacrifices needed to live in high-cost, inner-city neighborhoods.
The model's estimates of the costs of driving, says one of the background reports, come "from FHWA estimates from the 2001 editions of The Complete Car Cost Guide and Complete Small Truck Guide from Intellichoice, Inc., and sales figures from Automotive News. Auto ownership costs include depreciation, insurance, financing, and state fees. Auto use costs include fuel, maintenance, fuel tax, and repairs. The FHWA estimates the fixed annual ownership and use costs by the type and age of vehicle. We use a weighted average for the two costs on the basis of the existing fleet of U.S. vehicles, which results in $5,068 for the ownership component and 9 cents per mile for the use component."
Okay, that's a mouthful. But the point is that this model assumes that everyone buys a new car of average fuel economy and pays full finance charges. But not everyone does that. As the report goes on to say, "Because these costs are averages, in some cases, the model will over- or underestimate the ownership, use, or total costs. For instance, the ownership costs will be too high for vehicles that are older, smaller, or less expensive than the average vehicle on the road, and the auto use costs may be too low for these same vehicles, especially if they require more maintenance or are less fuel efficient."
How about that? "Working families" whose incomes are lower than average — the people who the authors of this report claim to care about — have many ways of reducing their costs of driving, none of which are accounted for in the report. They can get a used car. They can pay cash instead of finance charges (or get a car that has 0 percent financing, as many do). They can get a car that gets better than average fuel economy. And, what do you know, despite the fact that the whole point of the model is to account for local variations in costs, the report adds that, "The pricing model also does not account for variations in local economies or state regulations and how that might affect insurance rates, gasoline, and other auto costs."
Finally, when talking about how transit is so much more efficient than driving, the model fails to account that government subsidies to driving average about a penny per passenger mile while subsidies to transit average something like 60 cents per passenger mile. Sure, if you subsidize something enough, some people might save money using it. But it is noteworthy that, even with the subsidies, transit carries only about 1 percent of passenger travel in the U.S.
Interestingly, the background documents all focus on how they modeled transportation costs, but say very little about how they modeled housing costs. But the housing numbers offered in the report are suspicious as well. For example, their maps of housing affordability in the Portland, Denver, and other urban areas claim that housing alone is more affordable in the central cities than in the suburbs. Have they ever heard of the rent gradient (in which land and housing get more expensive as you get closer to city centers)?
Further, page 9 of the report says that the share of working-family income dedicated to housing ranges from 23 percent in Kansas City to 35 percent in San Francisco. According to Penny Wise Pound Fuelish, the source of this information is a 2006 report, A Heavy Load, also from the Center for Neighborhood Technology. According to that report, the source is "Center for Neighborhood Technology calculations." That's helpful!
According to Census Bureau data, in 2006 median family incomes in the Kansas City metro area were $55,779 and the median value of an owner-occupied home was $104,400, for a value-to-income ratio of 1.9. Median family incomes in the San Francisco-Oakland-San Jose metro area were $71,333, while the median value of an owner-occupied home was $340,800, for a value-to-income ratio of 4.8. So, relative to incomes, housing in San Francisco costs more than two-and-a-half times as much as in Kansas City, yet families in San Francisco manage to get by spending only 50 percent more of their income (35 vs. 23) on housing. How do they do that? Either the model is wrong or families in San Francisco are settling for smaller and/or lower-quality housing.
Obviously, one problem comes from relying on models rather than actual data, compounded by the lack of detailed information about how those models work. But an even deeper problem is the assumption that central planners can and should second-guess people's lifestyle decisions and use various subsidies and regulations to nudge them towards the decisions that are, after all, in the people's best interests (according to the planners).
Despite these problems, Transportation Secretary Ray LaHood has ordered all metropolitan planning organizations to use this methodology in their next transportation plans. So welcome to the grand future of "location-efficient housing." Your housing is going to be crummy, your neighborhood will be noisy and congested, your choice of jobs will be limited, and you will have to rely on the kindness of strangers subsidizing your transit dependence. Oh, and let's not mention that, because of high land and congestion costs associated with density, all your other consumer costs, such as food and clothing, will be higher as well. Otherwise, it sounds like a great life.