Denver converted some high-occupancy vehicle lanes to high-occupancy toll (HOT) lanes in 2006. A new review from the Institute of Transportation Engineers finds that they have been highly successful.
On the other hand, the congestion charge being used in London isn't doing much to relieve congestion. In fact, according to one report, congestion "is spiraling out of control."
On the Denver HOT lanes, tolls vary by the time of day, ranging from 50 cents to $3.25. But the FTA, which provided part of the funding to start the program, requires that buses using the lanes never face congestion, so the tolls will increase if traffic grows.
After a year, the lanes attracted more than 80,000 tollpayers a month on top of the 200,000 or so high-occupancy vehicles that use the lanes for free. Revenues greatly exceed the original forecasts, and the lanes are better utilized, thus taking pressure off of adjacent free lanes.
Meanwhile, the London program is a "cordon charge," a fee people have to pay for crossing a line into inner London. The fee does not vary by time of day, so it is not a true congestion charge.
A new paper from London conservatives says that London congestion is getting far worse in spite of the congestion charge. The paper is interpreting the "spin" from report from the city of London.
The city report, notes the conservatives, claims that the congestion charge has reduced the number of cars entering the pay zone by 30 percent. But this is an exaggeration because it ignores the 16 percent increase in vehicles exempt from paying the charge, "so the true reduction is only 14 percent."
Moreover, page 270 of the city report notes that traffic congestion grew by 15 percent between 2005 and 2006 alone. How can that be if cars are reduced by 14 percent?
The answer can be found on page 22 of the city report: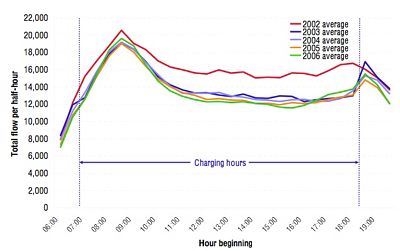 The graph shows that nearly all of the reduction in traffic has taken place during the off periods. Peak-period traffic is hardly depressed at all.
This is actually not surprising. Economic theory would say that the demand for travel at rush hour is more inelastic (i.e., less susceptible to fees) than travel at other times of the day. (If it were not inelastic, people would be willing to drive in such congestion.) If fees don't change during the course of the day, they will have the greatest effect during the hours that are more elastic. A properly designed fee should temper peak-period demand; a fixed fee instead tempers off-peak demand.
New York's Mayor Bloomberg has proposed to apply a London-like congestion charge to cars entering Manhattan. He may actually think this is an economically intelligent thing to do. It is not. Only fees that vary by time of day, or better yet by the amount of congestion, will really solve the congestion problem.