Want to discredit a good idea? Implement a bad idea but name it after the good idea. That is what New York City is doing with its so-called congestion pricing scheme.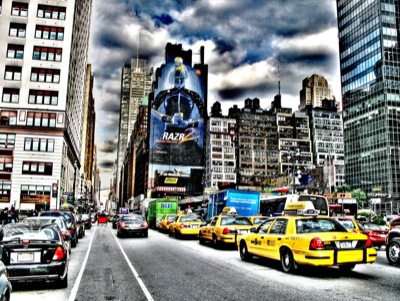 If you think density relieves congestion, try driving around Manhattan.
Flickr photo by 708718.
What Mayor Bloomberg proposes is to charge every car that enters south Manhattan between 6 am and 6 pm weekdays. He would then spend the money on mass transit. To be accurate, this should be called a cordon tax — that is, you pay a tax when you pass a line (a cordon).
True congestion pricing differs in several ways. First, with congestion pricing you pay for the use of a road, not for crossing a line. Second, with congestion pricing, the price varies depending on the amount of traffic there is. If it is constant all day long, it will fail to smooth out the peaks and valleys in traffic flows. Third, a congestion fee (as a opposed to a tax) would be spent on things that relieve congestion rather than on subsidies to other people.
Of course, transit riders are thrilled to get more subsidies from the cordon tax. But even in the New York urban area, transit and autos serve two different markets. Transit mainly serves New York City residents, while autos are the mode of choice for commuters from New Jersey and other outlying suburbs. Most people cannot easily switch from one to another. So the cordon tax takes from one group and subsidizes another group, but will probably do little to actually increase transit ridership or relieve congestion.
Bloomberg's cordon tax is a copy from London's similar charge. As previously noted here, that charge has not stopped London congestion from "spiraling out of control."
It appears that the London cordon tax resulted in a one-time reduction of traffic, but did not slow the growth in traffic after that. In contrast, true congestion-priced roads the best solution to congestion. Mayor Bloomberg's cordon tax is only an attempt to solve the city's transit deficits.
If even New York City's rail system cannot get by without continually increasing subsidies from auto drivers, how will rail systems in other cities make it? Part of the answer is that rail is "affordable" (meaning it isn't sending cities into bankruptcy) in regions outside New York simply because almost no one rides it — meaning everyone else is a pigeon being forced to pay for it.
Supporters of true congestion pricing have a defense against the defamation from calling a cordon tax "congestion pricing": they can change the name of their proposals. Some have promoted the term value pricing, because you pay for enjoying the value of less delay.
In any case, don't be fooled by Mayor Bloomberg's cordon tax. It is not congestion pricing, it will not reduce congestion, and it will not benefit the people who will have to pay the tax.