In Gridlock, the Antiplanner argued that the so-called infrastructure crisis is phony, and used bridges as an example. The Minneapolis bridge collapse raised attention about infrastructure, but it turned out that disaster was due to a design flaw, not lack of maintenance. While some bridges are in poor condition, records reveal that the number of bridges that are "structurally deficient" has been steadily declining since 1992 (the earliest year for which on-line data are available).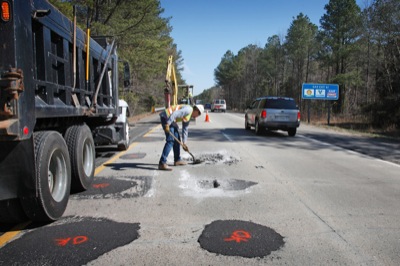 Filling potholes on a Virginia highway (VDOT photo).
On the Antiplanner's recent 1,500 mile road trip to Louisiana, Oklahoma, and Texas, however, the often rough interstate highways made me wonder if pavement is a different story. Could it be that bridges are in good shape but pavement is declining? Maybe there is some truth to claims of an infrastructure crisis.
So I turned to the Federal Highway Administration's annual Highway Statistics series. Table HM-64 reports pavement roughness using an "international roughness index" which ranges from 0 to something over 220—lower numbers represent smoother and therefore better pavement. The table compares six kinds of roads: rural interstates, major rural arterials, minor rural arterials, urban interstates, other urban freeways, and other urban arterials. I compared 2008 numbers with those from 1998.
In every single case, the national numbers show an improvement in road conditions. The roughness index for rural interstates, for example, declined from 92 in 1998 to 78 in 2008. For urban interstates, the number went from 108 to 93. While "other urban arterials" are not in as good a condition as the interstates, the tables reported small gains from 141 in 1998 to 135 in 2008.
The results might have been different if I picked a different year, and some states may be suffering declining pavement. But I checked Louisiana, Oklahoma, and Texas, and they all reported smoother pavement in 2008 than 1998.
So it appears there isn't a pavement crisis either. While that is good for highway users, it is too bad Congress was stampeded into funding billions of dollars of "stimulus" money partly on the back of a supposed infrastructure crisis.