Americans want high-speed rail, as long as someone else pays for it. States are chuffed upset, for example, because the federal government now says it wants the states to put up 20 percent of the capital cost. The original Federal Railroad Administration grant guidelines issued back in 2008 suggested that the feds might pay all of the costs. Though they added that states that provided matching funds might be more likely to get federal grants, no doubt some states feel betrayed by this change of policy.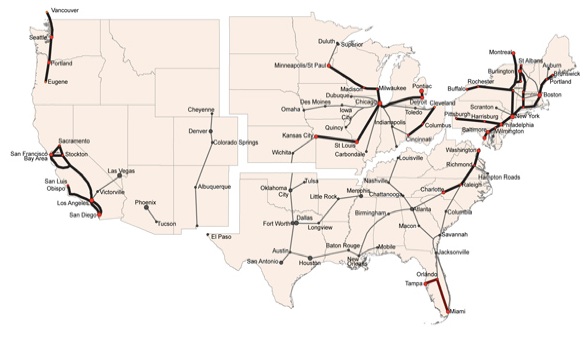 Someone is going to say, "but the federal government paid 90 percent of the cost of interstate freeways, so why will it only pay 80 percent of the cost of rail?" The crucial difference is that both the federal and the state shares of the interstates were paid out of gas taxes, in other words, user fees. (Though called a "tax," the gas tax was a user fee because it was imposed only on purchasers of gasoline–98 percent of which was used for driving–and because state gas taxes from the start, and federal gas taxes after 1956, were dedicated to highways.)
The interstates were also built on a pay-as-you-go basis: no borrowing in anticipation of future federal gas tax revenues. This introduced feedback into the system: if people didn't drive, there was no money to build roads. That's why it took longer than expected to complete the systems: not because people didn't drive on the interstates–they drove on them like crazy–but because neither Congress nor the states indexed gas taxes to inflation.
High-speed rail advocates want to do without feedback. They want to spend billions of dollars before one wheel turns. If no one rides the trains, they'll call them a success anyway, or say we just need to "complete the system" to get people to start riding.
I can see it now. We spend a billion on a Milwaukee-to-Madison moderate-speed train and hardly anyone rides it so they say, "we have to spend billions more making it a true high-speed train." We spend $3 billion on a Tampa-to-Orlando high-speed train and hardly anyone rides it so they say, "we have to spend billions more adding lines to Miami and Jacksonville." Eventually we blow hundreds of billions of dollars and the trains still carry only a percentage or two of total passenger travel. But we'll be able to hold our heads up high because we have obsolete trains going just as fast as the obsolete trains that hardly anyone rides in China, France, and Japan.
How many billions will we have to spend before giving it up as a bad job? Transportation Secretary Ray LaHood estimates the system will eventually cost $500 billion. The administration's current plan extends about 12,500 miles, so that's an average of $40 million per mile. It doesn't cost anywhere near $40 million a mile to upgrade existing freight lines to 110 mph tracks, which is what the administration supposedly wants to do everywhere but in California and Florida. So LaHood must be looking to build true high-speed rail (150-mph or more) on the entire 12,500 miles.
Who is going to pay this $500 billion? Not the people who ride the trains. Not, in all probability, anyone today. Instead, it will be paid out of borrowings, which means we will bequeath an obsolete transportation system and a huge debt to he future. There is nothing wrong with borrowing money if the investment you make produces more wealth. If all it does is transfer wealth from future taxpayers to present-day contractors, it is a huge drag on the economy.
A little perspective: The Interstate Highway System extends 47,000 miles. After adjusting for inflation, cost less than $450 billion (less than $10 million a mile or about $2 million per lane mile) and truly connected people in all of the contiguous 48 states. The average American travels 4,000 miles per year and ships 2,000 ton-miles per year on the interstates. And, contrary to what many rail advocates claim, the interstates were 100 percent paid for out of user fees.
By comparison, Obama's 12,500-mile rail network won't directly connect the Midwest with the East Coast or anywhere in the West with anywhere else. A report published by the ardently pro-rail Center for Clean Air Policy estimates that Obama's network will carry about 20 billion passenger miles per year (not counting the Northeast Corridor, which is already in place and not a part of Obama's plan), which (accounting for population growth) will average to less than 60 miles per person. Even accounting for the 3,000 or so route miles added to Obama's plan since that report was written, even boosting speeds up to 200 or more mph, per-capita ridership is never going to amount to more than 400 miles, which is about what it is in France and Japan.
Let's say 12,500 miles of 220-mph trains will move 140 billion passenger miles per year. We still have one system that paid for itself and moves well over a trillion passenger miles per year vs. another system that requires 100 percent capital subsidies and moves less than one-eighth that many passenger miles per year (and virtually no freight). In what universe could anyone think high-speed rail makes sense? Only one that has an extra $500 billion lying around collecting dust, which means not here.
On top of the capital costs are the operating costs. Rail advocates claimed that fares would pay the costs of operating the Washington MetroRail system. It didn't happen. They claimed that Portland's light-rail would pay its operating costs. Never came close. Yet too many people still fall for the line that high-speed rail will cover its operating costs.
Rail advocates point out that Amtrak's Acela was "profitable" (meaning it covered its operating costs) in 2009. Indeed, Amtrak says that it earned $67 million before depreciation and interest (see p. C-1). But the Acela uses the same infrastructure as the slower "Northeast Regional" trains, so Amtrak attributes $157 in "non-direct" costs to those slower trains, which themselves lost $67 million, meaning the Northeast Corridor as a whole didn't quite break even.
Most of the Obama routes will only run one class of train, so there won't be any other passenger trains to shift costs to. Plus no other corridor has as many people in as dense cities. So there is no chance that high-speed trains in any other corridor will ever cover their operating costs.
To cover Acela's 2009 operating costs, Amtrak charged fares averaging 72.5 cents per passenger mile. (On page C-1 of the above link, divide "contribution" by "contribution per passenger mile" to get passenger miles, then divide into revenue.) By comparison, airfares average less than 14 cents per passenger mile (and subsidies to commercial aviation average less than a penny per passenger mile). Intercity buses are about the same.
Americans spend less than $1 trillion a year (add lines 54 and 57) driving cars and light trucks 2.7 trillion miles a year, or about 35 cents a vehicle mile. The California High-Speed Rail Authority estimates that intercity cars carry an average of 2.4 passengers, so that's an average of 15 cents a passenger mile. In 2008, non-user fees spent on highways totaled $61 billion (cell O32), which was unusually high, probably due to the recession. Even if you don't count the $24 billion in highway user fees diverted to transit and other non-highway programs (cells O16 and O17), that $61 billion is a subsidy of just 2.3 cents per vehicle mile or less than 1.5 cents per passenger mile. In other words, when counting capital costs, the Acela is at least five times more expensive than flying or driving.
Fortunately, more people are beginning to question high-speed rail. The San Jose Mercury News, previously a rail booster, asks "who is going to pay for this turkey anyway?" Continuing questions about the viability and sensibility of the California high-speed rail plan that was approved by voters in 2008 has put rail advocates in damage-control mode. In other words, just because voters agreed to sell $9 billion worth of bonds that no one knows how the state will repay doesn't mean that the San Francisco-to-Los Angeles line, which is expected cost more than $30 billion and will probably cost much more, will ever be built. If that isn't built, it is likely that the U.S. as a whole will largely escape this bullet train.
The history of transportation shows that people adopt new technologies when they are faster, more convenient, and less expensive. The real advantage of these new technologies–steamboats, trains, streetcars, automobiles–is not that they replaced older technologies but that they greatly increased mobility from what it was before. High-speed rail is slower than flying, less convenient than driving, and far more expensive than both, so it won't increase mobility, it will merely replace other, less-expensive forms of travel. Let's hope Congress figures this out before we pour too many more billions of dollars down this high-speed drain.