With many transportation planners have given up trying to relieve congestion or, worse, are trying to increase congestion in order to persuade people out of their automobiles. So it is refreshing to see some innovative ideas that will actually relieve congestion on the highways used for around 80 percent of our travel.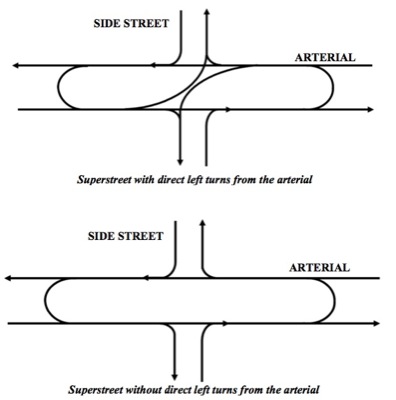 One idea is known as superstreets, in which major streets are given priority over cross streets. Vehicles on the cross streets can cross the major streets only by getting on the major street, making a u-turn, and then turning right onto the cross street. As described in this report from North Carolina State University, this greatly reduces both the time required for traffic signals to cycle and the number of conflict points between the two streets.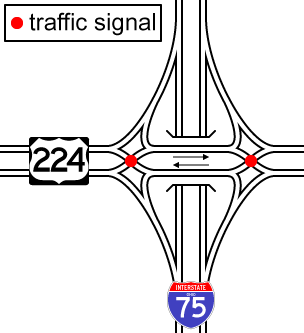 Another idea is the diverging diamond interchange, which has its own web site. Under this system, vehicles on the secondary highway actually cross over and run on the left side of the road for the length of the interchange, which again reduces the signal timing (or the need for any signals at all for many drivers) and the number of points of conflict.
These and other ideas have been compiled in compiled in one document by an Idaho planning agency. Their costs are relatively low and would do much to save people time and fuel.