The San Francisco Chronicle reports that an urban renewal project that began in the City's Fillmore District in 1948 is about to sunset. The City's web site claims the project "has set the stage for the rebirth of a rich and vibrant street life."
But the director of the City's Redevelopment Agency tells the Chronicle a different story. "The agency's time there has not been a happy story," he says. The little good that has happened in recent years is not "making up for the damage that was done in the early days."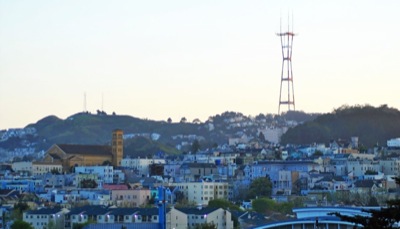 San Francisco's Western Addition, of which the Fillmore District is a part. Some of the apartments in the foreground were no doubt built on the sites of former Victorian homes.
Flickr photo by pbo31.
California passed an urban-renewal law in 1945 giving cities the authority to clear out "blighted" areas. Cities were allowed to determine whether a neighborhood was blighted by, among other things, the percentage of non-white people who lived in the neighborhood. The Fillmore District was 60 percent black, ergo it was blighted.
By declaring the neighborhood blighted, San Francisco was able to use eminent domain to evict 883 businesses and 4,729 families from their homes. The city then demolished, among other things, 2,500 Victorian-era houses. Residents of the area were promised first dibs on housing that the Redevelopment Authority would build in the area, "But there wasn't a lot of housing built for a long time," says an agency official. Instead, "the area sat empty for many years," and when housing was finally built, the former residents no longer cared to move back.
Today, the agency brags that the area has a few nice restaurants and a popular jazz club. But, given the high cost of San Francisco real estate (caused by the region's slow-growth policies), you would expect to find nice places even without government redevelopment. What you don't expect to find is some of the worst crime in the region.
A declaration that an area is blighted is a self-fulfilling prophecy. Banks won't make loans to property owners whose homes or businesses are likely to be taken by eminent domain, so the buildings aren't adequately maintained.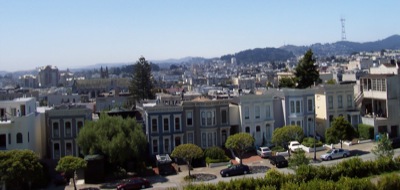 Some of the Victorian homes that escaped the urban-renewal program.
Wikipedia photo by Christopher Beland.
The Fillmore story is only one example of the urban-renewal binge that cities went through in the 1950s and 1960s. The best estimates are that more than a million families were displaced, most of them black. Today, of course, we recognize that this was racist and say it was a bad idea.
But the basic tools of urban renewal — eminent domain and tax-increment financing — remain in place, so urban renewal continues, though its targets may be a bit more equal opportunity. Slow-learning San Francisco, for example, is about to begin redevelopment of the 1,300-acre Bayview-Hunters Point neighborhood. But the new schemes are as likely to fail as the old ones, and for the same reason: government planners pay no penalty when their plans fail, so they have no incentive to get them right. Instead, their plans are based more on ideology than on what works.
The Institute for Justice has documented numerous urban-renewal failures. The Institute is mainly concerned about eminent domain abuse, but tax-increment financing is the real culprit. Without TIF, cities couldn't finance of lot of the eminent domain they want to do. Without eminent domain, but with TIF, they can still do a lot of damage.
Giving cities the right to use TIF is like giving a 10-year-old a hammer: suddenly, everything becomes a nail. TIF, of course, takes property taxes that would otherwise go to school and other services and dedicates them to urban renewal instead. Since schools are usually separate from the cities, the cities regard them as rivals for tax dollars, and use TIF to capture some of the money that would otherwise be "wasted" by the school districts.
The sad truth is that government is not a good agent of urban redevelopment. On the other hand, most blighted areas in cities not named Detroit have pretty much gentrified with or without government help. States should declare victory and repeal their TIF and other urban-renewal laws.