As previously noted, the Antiplanner recently moved to Central Oregon. In fact, I moved into what the Forest Service calls the WUI (pronounced woo-eee) for wildland-urban interface. In other words, I live within a few hundred feet of public forest land that is likely to burn any year now.
So I naturally take note when a big lightning storm two nights ago was followed yesterday by helicopters carrying giant buckets of water to local wildfires. And since it is fire season, we are now inundated with the inevitable myths about wildfire.
First, National Geographic presents a video promoting bigger Forest Service budgets. "Fires today are hotter than ever," says the video, because past decades of fire suppression have led to more fuels in the forest. Second, on a related topic, Reuters reports that climate change is threatening Alaska's forests.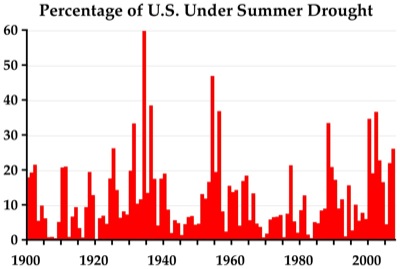 Click to see a larger chart.
The drought chart above, which is based on data from the National Climatic Data Center, shows why I call both these stories myths. Forest Service and other firefighting officials who say that today's fires are hotter than any in memory are not likely to remember anytime back before the 1960s.
Notice from the chart that, starting in 1967, the U.S. entered a period of about 20 years when there were only two serious summer droughts (serious meaning more than 10 percent of the country is experiencing severe or extreme drought). Since 1988, however, 12 out of 20 years have had serious droughts. Similarly, 12 out of the 20 years before 1967 also had serious droughts.
As I show elsewhere, there is a strong correlation between this measure of drought and the number of acres burned each year. What this means is that firefighters and agency officials who remember a "golden age" when fires burned cool and did not cover many acres are remembering those cool, wet decades. Today's hot fires are hot because of drought, not more fuels.
The chart also shows that wet and dry periods tend to be cyclical, and there is little evidence that the current drought is due to global climate change. In fact, the droughts of the 1930s and early 1950s were actually worse than today's.
This may be small comfort if a national forest fire burns down my home. But any policies that assume that today's fires are due to past fire suppression or that today's fires are evidence of global warming are likely to be misguided.