Between 1890 and 1940, U.S. homeownership rates hovered between 44 and 48 percent. Then they suddenly grew to 62 percent by 1960. What happened to cause the rates to rise so much?
The conventional answer is government intervention. Kenneth Jackson, author of Crabgrass Frontier, argues that legislation passed during the New Deal would "revolutionize the home finance industry" by introducing amortizing mortgages, reducing downpayments to as little as 7 percent, and reducing interest rates. He adds that, "One reason that long-term mortgage arrangements were not typical prior to the 1930s was that an 1864 amendment to the 1863 National Bank Act prohibited nationally chartered banks from making direct loans for real estate transactions."
However, Jackson has many of his facts wrong. As early as the 1880s, at least some homebuilders offered homes with down payments as low as 7 percent. Amortizing mortgages were invented in the 1890s and became popular in the 1920s. And Congress amended the law to allow national banks to make real estate loans in 1913.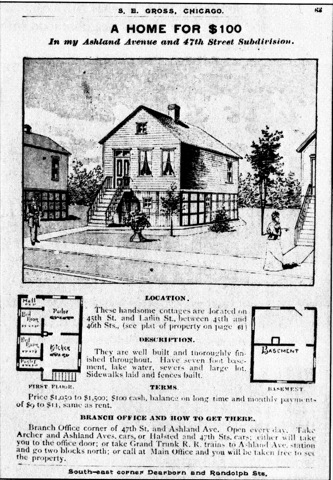 Ad for a $1,500 Chicago home that could be purchased with a $100 down payment in around 1890. Click for a larger view.
In the 1880s and 1890s, a Chicago real-estate developer named Samuel Gross put in 150 subdivisions, selling 40,000 lots and building more than 7,500 homes on some of those lots. He sold houses for $800 to $4,000 (about $20,000 to $100,000 in today's money). The above ad offers cottages for $1,050 to $1,500 with a $100 down payment (about $2,500 in today's money), which is just under 7 percent of $1,500. The difference in prices ($1,050 vs. $1,500) probably has to do with whether or not the house had inside plumbing.
View Larger Map
At least one of the cottages in S. E. Gross' ad can still be found in Chicago, though the wide lot has either been subdivided or, more likely (because lots in those days were priced by the frontage foot), was misrepresented in the ad. Zillow estimates this house is worth about $97,000 today, which means its value has grown a little faster than inflation. Information from Google maps about a nearby school indicates that 99.7 percent of children in the neighborhood are "economically disadvantaged," suggesting this is still a working-class neighborhood as it was when the house was new.
Gross sold his homes with non-amortizing loans, also known as interest-only loans. Buyers would pay $10 or so a month for six or seven years, then be expected to pay the principle in one lump sum. Usually, buyers would simply refinance the loan and continue to pay interest. They could get in trouble during a recession when it was hard to get loans, but as of 1895 Gross was proud to say that, despite the 1893 depression, he had never foreclosed on a mortgage, and he rarely if ever did so after that. Instead, he was known for helping people trade up to larger homes when they could afford to do so.
An amortizing mortgage is what we would call a conventional mortgage, one in which the buyer pays both interest and principle each month so that, after 15 to 30 years or so, the entire loan is paid off with no balloon payment. Building & loan associations (later called savings & loan associations) introduced amortizing mortgages in the 1890s. But they did not become popular until the 1920s. Almost twice as many homes were built in that decade than any previous decade in American history, and 60 percent of them were financed by building & loan associations, many if not most of them with amortizing mortgages.
The building & loan associations' promotion of amortizing mortgages may have been stimulated by the competition created when Congress allowed national banks to lend for real estate after 1913. While national banks had only a small share of the total market for mortgage lending, they did innovate by creating the first mortgage bonds, which increased the amount of money available for mortgages, thereby reducing interest rates.
In short, by 1930 all the elements that Jackson calls "revolutionary" were in place. Had the Depression not intervened, homebuyers would still have been able to buy homes with low down payments and low interest rates and pay them off with amortizing mortgages.
What really made the difference between the 44 percent homeownership rate of 1940 and the 62 percent rate of 1960 was the automobile. In 1930, only about half of American families had access to a car. Those who could not afford cars also could not afford mass transit, so had to walk to work–meaning they lived in city or town centers where land prices were high, forcing them to rent flats or apartments rather than buy homes.
By 1960, auto ownership was near universal. People who owned a car could drive to the urban fringe were land prices were low and buy an affordable home. The expansion of auto ownership had far more to do with the growth in homeownership than government programs like the Federal Housing Administration.