Sam Stein at the Huffington Post frets that "Obama's vision for high-speed rail is in danger of stalling out." Where has he been the last three years? High-speed rail was in danger of stalling out in 2010, when Florida, Ohio, and Wisconsin elected governors who turned back funds for their states' programs. Today, Obama's "vision" is dead, and so is high-speed rail in this country.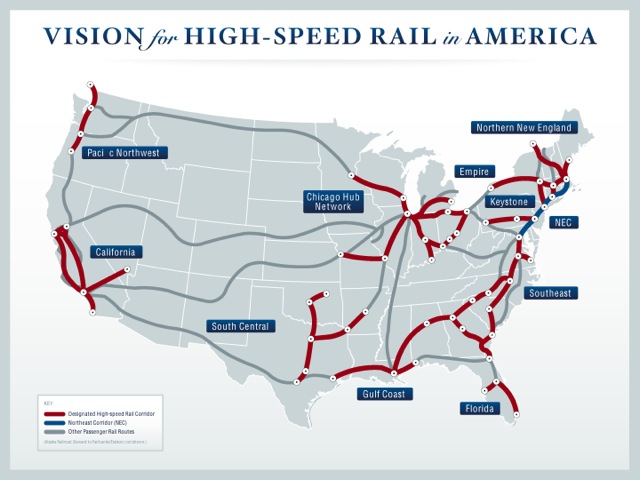 Unlike air and highway travel, with Obama's high-speed rail vision, you won't be able to get from anywhere in the country to most other places in the country.
Like other rail nuts, Stein tries to make it appear we are in some kind of race for supremacy with Japan and other countries. "With countries like Japan already investing in the newest form of rail technology –- magnetic levitation, which LaHood called "way too expensive" for the U.S. –- the nation is very much set to be left in the proverbial dust." The problem is that "the newest form of rail technology" is just as obsolete as the previous form. Stein might as well worry that we aren't keeping up with the Japanese on floppy disk technology.
It's appropriate that Stein's article is accompanied by a photo of President Obama standing on the rear platform of a 1920s-vintage railcar. High-speed rail really isn't that much newer. American railroads were experimenting with high-speed trains in the 1930s. Japan built the first rail line dedicated to high-speed passenger service in the early 1960s, which was closer to the 1920s than the 2010s.
It seems the Antiplanner has to keep reminding people that we have this new-fangled technology called airplanes that can go faster than any high-speed train. We have airports that are located close to most cities, and it is likely that more Americans live close to commercial airports than close to downtown train stations in the cities that would be served by Obama's discontinuous rail network.
We also have an idiotic government-run airport security system slowing down air travel, which somehow has been twisted into an argument to have an idiotic and massively expensive government program of semi-fast train travel. For a lot less money, we could speed up airport security and have a better travel system than any of the countries that are wasting their money on high-speed trains.